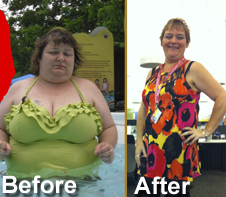 I've lost over 100 lbs and just completed a Half Marathon in 3 hours and 9 minutes!
San Antonio, Texas (PRWEB) December 18, 2012
Dr. Nilesh Patel of Texas Bariatric Specialists (TBS) is pleased to announce that less than 14 months after her gastric bypass procedure, Jean Hickey completed a 13.1 mile Half Marathon in just three hours and nine minutes, with an enthusiastic cheering section of family and friends!
Fourteen months ago, Jean Hickey would not have even contemplated a 5k walk, let alone a Half Marathon. Jean had always been somewhat overweight growing up, but was active in school sports on the volleyball and basketball teams, and was blessed with lots of friends and a loving and supportive family. She never considered her weight a problem; her twin sister was slim and Jean was heavy – "that's just who I was", she says.
After high school, Jean worked for fifteen years in a fast food restaurant, then in retail, and her weight stayed fairly constant. In August 2012, looking for a career change, she took a job in a customer service center in Austin. Gradually she began sitting more and moving less, with the exception of a little walking. One day she saw a picture of herself in a swimsuit and thought "I just don't look good"! In addition, she believed that her weight would eventually lead to health problems.
Researching her options on the web, she soon decided to consult Dr. Nilesh Patel of Texas Bariatric Specialists (TBS), based on his reputation and the stories of other patients he had helped. She reserved a spot in the next free seminar scheduled for the Austin clinic, then met with Dr. Patel. Other than high blood pressure, Jean was reasonably healthy, and together they decided a gastric bypass was her best means of achieving her goals. Her family, friends and boyfriend all supported her decision, promising to be there for her during and after her surgery.
After her November 2011 procedure, Jean concentrated on changing her eating and exercise habits. She tells us that she is still working to improve the quality of food she eats, trying to incorporate more lean protein, vegetables and fruit. She has protein shakes from TBS in the morning, and then eats what she terms "regular food", often packing her own lunch to take to work. She is weaning herself off of fast food, as she just doesn't feel good after eating it. The only food she still misses is flour tortillas, but she is learning to love the taste of corn tortillas!
Jean tries to go to the gym most evenings on her way home from work and has been steadily building up her cardio fitness to complete a Half Marathon. She finished the entire distance and is justifiably proud of her accomplishment! Her family served as cheerleaders not only during the race, but throughout Jean's continuing journey to a healthy life!
Her co-workers have also been encouraging, One of the guys she works with commented "You know, every time I see you I don't recognize you!" And she says that every time she shows her ID, people do a double-take, as she just doesn't look like the woman in the picture!
Jean takes special pleasure in shopping. Formerly a size 26, she now fits easily and happily in to size 10 clothing. She reports that, "…knowing I can walk into a clothing store and get whatever I want is continually amazing to me!"
About Texas Bariatric Specialists
Founded by Dr. Nilesh A. Patel, MD, a nationally recognized and fellowship-trained bariatric surgeon, Texas Bariatric Specialists (TBS) is a holistic weight loss practice focused on delivering long-term weight loss solutions for patients. Dr. Patel specializes in minimally-invasive surgical weight loss procedures including; Lap Band, Gastric Bypass, as well as Gastric Sleeve, and the revision of failed weight loss surgery and has performed over 2,500 surgeries where the patient's weight loss exceeded national benchmarks for success. With a commitment to surgical expertise, compassionate care and exemplary preoperative and post-surgical consultative services, Dr. Patel and staff at Texas Bariatric Specialists ensure successful weight loss management for their patients through long-term relationships to support good health. Offices are located across major cities throughout Texas including; San Antonio, Austin, Corpus Christi, New Braunfels, Seguin, Boerne, Killeen, Temple, Del Rio and Laredo. For more information, or to book a free seminar, please visit http://www.texasbariatricspecialists.com.