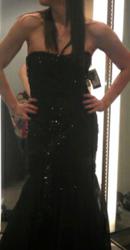 I proved to myself that I can change what I want to change about myself – I can do anything I want to!
San Antonio Texas (PRWEB) April 17, 2012
Dr. Nilesh A. Patel of Texas Bariatric Specialists (TBS) is pleased to announce the success of Jessica (of San Antonio) and her dramatic 132 pound weight loss, as well as her return to good health and an active social life after Gastric Bypass surgery.
Overweight for most of her life, Jessica was caught in a vicious cycle of yo-yo dieting, never achieving her goal of a healthy weight. Photos from a friend's wedding shower highlighted the dramatic difference between her slim friends' figures and her own shape, and finally made Jessica realize she needed to do something for herself.
Jessica found Dr. Patel and the positive reviews he has received by researching the internet and recommendations from friends and coworkers. Though she had initially considered Lap Band surgery, Jessica decided on a Gastric Bypass procedure after consulting with Dr. Patel, and discussing with him the details, side effects and suitability of each possible weight loss procedure for her.
Crediting the counseling staff at Texas Bariatric Specialists with preparing her for any potential physical and emotional side effects and pitfalls some gastric bypass patients can have, she kept her goals in mind, working hard to change not only her eating habits, but her lifestyle and outlook, incorporating healthy foods and activities. Jessica began losing weight steadily after her Gastric Bypass surgery, until she reached her current healthy weight of 140 lbs.
Asked what she does now she couldn't do before, her enthusiastic answer is "I go out!" She has confidence, goes to the gym, and no longer feels self-conscious or uncomfortable. Jessica is now finishing her college degree and feels great about her new life. "I proved to myself that I can change what I want to change about myself – I can do anything I want to!"
About Texas Bariatric Solutions
Founded by Dr. Nilesh A. Patel, MD, a nationally recognized and fellowship-trained bariatric surgeon, Texas Bariatric Specialists (TBS) is a holistic weight loss practice focused on delivering long-term weight loss solutions for patients. Dr. Patel specializes in surgical weight loss procedures including Lap Band, Gastric Bypass, Gastric Sleeve, Gastric Band, and the revision of failed weight loss surgery, which have resulted in over 2,500 surgeries that have exceeded the national average of successful weight loss management. With a commitment to surgical expertise, compassionate care and exemplary preoperative and postsurgical consultative services, Dr. Patel and staff at Texas Bariatric Specialists ensure successful weight loss management for their patients through long-term relationships to support good health. Offices are located across major cities throughout Texas including San Antonio, Austin, Corpus Christi, New Braunfels, Seguin, Boerne, Kileen, Temple, Del Rio and Laredo. For more information, or to book a free seminar, please visit http://www.texasbariatricspecialists.com.