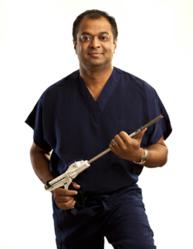 The older I got, the more mortal I was becoming", says Robert Hunsucker, "…I was a walking time bomb
(PRWEB) June 29, 2012
Dr. Nilesh A. Patel of Texas Bariatric Specialists (TBS) is pleased to announce that a Gastric Bypass procedure performed in TBS' San Antonio facility has transformed the life of one of his patients. Previously 403 pounds and describing himself as "a walking time bomb", Robert Hunsucker of Buda, TX is now a healthy 220 pounds.
An active athlete growing up, Robert developed a large appetite, which he carried into his successful career as a life insurance adjustor. But the high-stress job offered little time for sports and Robert's health began to deteriorate. "The older I got, the more mortal I was becoming", he notes. He developed diabetes, high blood pressure, and high blood sugar and became what he knew, as an insurance professional, to be a high insurance risk – "a walking time bomb", in his own words!
Robert decided he needed to do something for himself. He is part of an extended Central Texas family and one of his sisters had successful weight loss surgery. She had done extensive research to find the most experienced and highly qualified bariatric surgeon in Central Texas, and had decided on Dr. Nilesh Patel of Texas Bariatric Specialists to perform her surgery. She recommended he consult Dr. Patel as well, and spoke highly of the compassionate care she received both pre- and post-surgery.
Robert borrowed his sister's books and research, made the decision to see Dr. Patel, and scheduled his surgery. Post-surgery, he attended support group sessions in TBS' Austin office, sharing tips on activities, recipes and lifestyle with other patients.
Robert rarely spends night in front of the television now – he walks with weights seven miles, seven days a week. And he and his wife eat balanced, nutritious meals, no longer craving the high calorie, high fat foods he used to eat. Robert tells us, "Gastric bypass is your jumpstart -everything else is up to you."
Robert's family has been inspired by his success. A second sister also had successful gastric bypass surgery and a third sister and two cousins are now preparing for theirs, all with Dr. Patel of Texas Bariatric Specialists. They are planning on happy family reunions for many years to come!
About Texas Bariatric Solutions
Founded by Dr. Nilesh A. Patel, MD, a nationally recognized and fellowship-trained bariatric surgeon, Texas Bariatric Specialists (TBS) is a holistic weight loss practice focused on delivering long-term weight loss solutions for patients. Dr. Patel specializes in surgical weight loss procedures including Lap Band, Gastric Bypass, Gastric Sleeve, Gastric Band, and the revision of failed weight loss surgery, which have resulted in over 2,500 surgeries that have exceeded the national average of successful weight loss management. With a commitment to surgical expertise, compassionate care and exemplary preoperative and postsurgical consultative services, Dr. Patel and staff at Texas Bariatric Specialists ensure successful weight loss management for their patients through long-term relationships to support good health. Offices are located across major cities throughout Texas including San Antonio, Austin, Corpus Christi, New Braunfels, Seguin, Boerne, Kileen, Temple, Del Rio and Laredo.
For more information, or to book a free seminar, please visit http://www.texasbariatricspecialists.com.