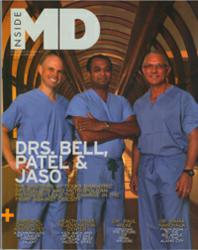 "If you are considering having a child and are severely obese or simply cannot give birth, weight loss routines and risk minimization can help in having a safer pregnancy and a healthier baby for the long term", says Dr. Nilesh Patel
San Antonio, TX (Vocus/PRWEB) February 21, 2011
As the numbers for Obesity in the US grow larger, one concern many women are facing is their health during a pregnancy. The Gastric Sleeve (or Lap Sleeve) is the latest procedure to counter severe obesity and is offered at Texas Bariatric Specialists.
A new study reported in the Journal of the American Medical Association found that women who were obese during pregnancy had an increased risk for birth defects which differed from case to case:

The risk of spina bifida was more than two times as high for obese pregnant women, and the overall risk of neural tube defects was nearly twice as high.
The risk of cardiovascular defects was 30% higher.
The risk of cleft lip and cleft palate, either singly or together, was about 20% higher.
The risk of hydrocephaly (an abnormal buildup of fluid in the brain) was 60% higher.
Limb reduction abnormalities were 30% higher.
The Gastric Bypass is the removal of 70-80 percent of the stomach allowing for a smaller stomach size and healthy meal sizes to be attained. Patients that undergo this procedure can often lose 50-80 percent of excess body fat within the first six months to first year. High blood pressure, sleep apnea, and type two diabetes can also be resolved completely.
"If you are considering having a child and are severely obese or simply cannot give birth, weight loss routines and risk minimization can help in having a safer pregnancy and a healthier baby for the long term", says Dr. Nilesh Patel Texas Bariatric Specialists founder.
Experience and a tested hand are critical in receiving gastric bypass surgery or any bariatric surgery procedure. Texas Bariatric Specialists is proud to be a Center of Excellence provider which ensures the highest in both surgical talent, cases completed, and follow-up care set by the American Society for Metabolic and Bariatric Surgery.
About Texas Bariatric Specialists
In the past five years, Dr. Patel's San Antonio-based Weight Loss Surgery practice has performed 2500 surgeries. Additionally, his practice has expanded to now serve major cities across Texas including Austin, Corpus Christi, Killeen, Temple, New Braunfels, Boerne, Seguin and Del Rio.
Dr. Patel is now regularly featured within "Ask the Expert" segments on local news programs, is recognized as a Centers of Excellence Surgeon by the American Society of Metabolic and Bariatric Surgery and remains an advisory board member for ObesityHelp.com. His practice continues to exceed national averages for weight management success due to surgical expertise, compassionate care and exemplary pre-surgery and post-surgical consultation services.
To Learn more about the Lap Band, Gastric Bypass, Gastric Sleeve Gastrectomy, Gastric Band, and Failed Weight Loss Surgery procedures visit Texas Bariatric Specialists at http://www.texasbariatricspecialists.com.
# # #