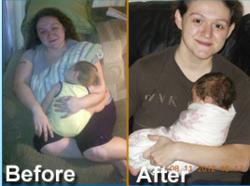 Her daughter is thriving beautifully as an exclusively breast-fed baby!
San Antonio, Texas (PRWEB) September 18, 2012
Dr. Nilesh A. Patel of Texas Bariatric Specialists (TBS) is pleased to announce that a gastric sleeve procedure he performed on Kathryn Vinson of Austin, Texas has enabled both a healthy pregnancy and thriving breast-fed infant. Kathryn Vinson is now a happy mother of two beautiful children, the youngest just eight weeks old! But, prior to her May 2011 gastric sleeve surgery, Kathryn was unable to even consider a second pregnancy.
Growing up, Kathryn was "always heavy", but was loved and accepted within her close family, many of whom were also overweight. Schoolmates, however, were not as accepting and the taunts were challenging for her. Always interested in being athletic, Kathryn played basketball and ran track in high school, which kept her weight in relative balance. But meals portions at home were large and not as low in fat and calories as she now knows food needs to be.
While in college, Kathryn was diagnosed with asthma and multiple sclerosis (MS), which attacks the central nervous system. She tried hard to stay healthy in spite of her health problems, even completing two Bike MS events - for a total of 300 miles of biking over the course of two weekends! But despite her efforts, her weight remained high; 180 pounds on only a five foot frame.
Her health issues required that she take steroids during her first pregnancy, and she gained a considerable amount of weight, bringing her up to 225lbs, which then caused sleep apnea. MS, asthma and sleep apnea symptoms are all exacerbated by excess weight, and Kathryn had a baby to take care of. She realized she needed to do something about her weight, both for herself and the new baby, as well as for the second child she and her husband wanted!
Kathryn turned to her mother for advice. Her mom had undergone a successful gastric bypass surgery with Dr. Nilesh Patel of Texas Bariatric Specialists (TBS), as the foot injury she sustained in a car accident was unable to heal due to her own excess weight. Not willing to spend the rest of her life in a wheelchair, Kathryn's mom researched alternatives and chose Dr. Patel based on his very successful track record and professional standing. Kathryn had accompanied her mom on TBS appointments, so already knew and trusted Dr. Patel, and went directly to him for a consultation.
Dr. Patel performed Kathryn's gastric sleeve procedure in May 2011 and her recovery was fast, though she admits that the first few weeks on a liquids-only post-op diet were tough! She got through the healing process quickly by taking the doctor's advice to get out and walk every day. After a few short weeks, she was up to walking several miles a day. Kathryn spent a considerable amount of time with the TBS nutritionist, as she is allergic to all artificial sugar replacements, which meant she could not use the supplements recommended for most patients. The TBS nutritionist and staff researched and found a healthy nutritional supplement for Kathryn. She appreciates how accessible the nutritionist was – and still is! – as she either calls or comes in to see the nutritionist as often as she likes. The nutritionist also helped Kathryn develop a healthy eating plan with lots of fresh fruits, vegetables and lean protein. She speaks highly of all the TBS follow-up procedures, including the necessary lab work, and found her new healthy eating habits and exercise allowed her to easily achieve "normal" lab results without radical lifestyle changes. Prior to the surgery, she had been worried that she would lose her hair or need massive quantities of supplements on an on-going basis. But Kathryn has been pleased to find that she is able to get the nutrition she needs (and keep all her hair!) by eating right, with minimal use of dietary supplements.
A few months after her surgery, Dr. Patel gave Kathryn and her husband the "all-clear" to try for the second child and she became pregnant soon after. Needing to increase her nutritional intake during pregnancy, Kathryn found "switching paradigms" tough at first; she needed to add rather than subtract food from her diet! Fortunately, she found that it was substantially easier to maintain a healthy level of weight gain throughout this post-op pregnancy as compared to her first pregnancy. Throughout the pregnancy, mother and baby thrived, the delivery was a smooth one and both are healthy and happy! As a second-time mother, Kathryn is very happy to have TBS's support in breast feeding her baby. She had been concerned about her ability to breast feed after weight loss surgery, as she had heard a rumor that she might not be able to provide enough nutrition for the baby due to the alterations to her stomach. However, Dr Patel assured her this was not the case, and her daughter is thriving beautifully as an exclusively breast fed baby.
Kathryn's life is a full and busy one; in addition to two young children, she works full time. But she has a great support system; her husband, her mom, her family, friends and the TBS staff are all proud and supportive.
About Texas Bariatric Specialists
Founded by Dr. Nilesh A. Patel, MD, a nationally recognized and fellowship-trained bariatric surgeon, Texas Bariatric Specialists (TBS) is a holistic weight loss practice focused on delivering long-term weight loss solutions for patients. Dr. Patel specializes in surgical weight loss procedures including Lap Band, Gastric Bypass, Gastric Sleeve, Gastric Band, and the revision of failed weight loss surgery, which have resulted in over 2,500 surgeries exceeding the national average of successful weight loss management. With a commitment to surgical expertise, compassionate care and exemplary preoperative and postsurgical consultative services, Dr. Patel and his staff at Texas Bariatric Specialists ensure successful weight loss management for their patients through long-term relationships to support good health. Offices are located across major cities throughout Texas including San Antonio, Austin, Corpus Christi, New Braunfels, Seguin, Boerne, Kileen, Temple, Del Rio and Laredo. For more information, or to book a free informational seminar, please visit http://www.texasbariatricspecialists.com.