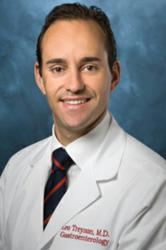 It is a great achievement to receive certification as a Diplomate of the American Board of Obesity Medicine. I have focused my research and patient care on the science of weight loss, and am honored to be recognized by OBOM
Los Angeles, California (PRWEB) January 04, 2012
Leo Treyzon M.D., a gastroenterologist at La Peer Health Systems in Beverly Hills, passed the American Board of Obesity Medicine (OBOM) exams. He is the only Los Angeles gastroenterology doctor in the area to become a certified diplomate.
"It is a great achievement to receive certification as a Diplomate of the American Board of Obesity Medicine. I have focused my research and patient care on the science of weight loss, and am honored to be recognized by OBOM," said Dr. Treyzon.
Dr. Treyzon and other physicians are currently working to develop the bariatric program at La Peer Health Systems. The program places an emphasis on nutritional education. This is vital in helping obese patients loose weight and, ultimately, maintaining a healthy lifestyle after the weight loss.
Additionally, Dr. Treyzon and his team of gastroenterology specialists help coordinate bariatric surgery, when appropriate, to help improve the health of dangerously obese patients who have already exhausted other methods of weight loss. Weight loss surgery procedures to be offered at La Peer include gastric banding.
Dr. Leo Treyzon is a gastroenterologist with four board certifications, including American Board of Internal Medicine (ABIM), American Board of Physician Nutrition Specialists (ABPNS), American Board of Obesity Medicine (OBOM), and American Board of Internal Medicine, Gastroenterology Subspecialty. He is an active member in three Centers of Excellence at Cedars Sinai, including the Weight Loss Center, the Esophageal Disorders Center, and the Colorectal Cancer Center.
Dr. Treyzon also holds a master's degree from UCLA in clinical research. His research focuses on diet, obesity, and issues relating to digestive health. His expertise in this area has allowed him to publish multiple articles in peer-reviewed publications such as the Nutrition Journal, Journal of the American Dietetic Association, Alimentary Pharmacology and Therapeutics, the American Journal of Gastroenterology, Surgical Endoscopy, Metabolic Syndrome and Related Disorders, and Clinical Gastroenterology and Hepatology.
La Peer Health Systems, located in Beverly Hills in Los Angeles county, focuses on excellence in patient care, offering state of the art treatment modalities and cutting edge medical devices. With 42 doctors encompassing 13 departments, ranging from anesthesiology to urology, La Peer offers comprehensive and widespread medical treatments for all patients. More information about La Peer Health Systems can be found at http://www.LaPeerHealth.com.
###