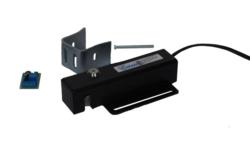 "...gate openers did not slam closed any more like they used to. This is the first product to come out that addresses this.
Tampa, FL (PRWEB) May 24, 2012
The month of May marks the long awaited release of the low impact automatic gate lock by Estate Swing, a Florida based gate opener and access control brand. With the arrival of soft stop technology in most gate opener brands, the traditional automatic gate locks require more force to latch than the gate openers deliver. The Estate Swing gate lock allows compatibility between soft stop technology and gate automation security.
The Estate Swing automatic gate lock requires less than 1 lb of force compared to approximately 10 lbs of force in the competing brands. Joel Dimeo, Chief Technical Manager of Gate Crafters, states, "Since about 2006 one of my most frequent phone calls about accessories was in regards to a gate lock not latching properly. This was because gate openers did not slam closed any more like they used to. This is the first product to come out that addresses this."
The release had been previously been scheduled for FenceTech 2012, the yearly gate opener industry expo. Estate Swing instead opted for a soft release at the trade show and a complete roll out shortly after. Many companies opt for a soft release to acquire market response and better react to needed distribution strategies during the product's release. Estate Swing has reported that the automatic gate lock has been supplied in full to its current distribution network and installer network.
In a technical summery provided by Estate Swing to describe the change, they state, "The latching mechanism in the lock is based on a pivot rather than a linear path. The previous design's linear path requires the latch to be pushed directly perpendicular to the receiving pin; requiring much greater amounts of force. The design for the low impact gate lock is based on more conventional door latches. It is combined with a solenoid that when energized releases the lock to allow the gate to freely open with the movement of the gate opener motor."
For additional information on distribution of the Estate Swing automatic gate lock, contact David Rivera at Estate Swing, a brand of Sequoia Brands, Inc. For retail purchase visit http://www.gatecrafters.com, http://www.amazon.com or http://www.sears.com.
About Sequoia Brands, inc:
Sequoia Brands, inc. is a Florida corporation that owns and manages multiple specialty brands including Estate Swing gate automation and access control equipment.