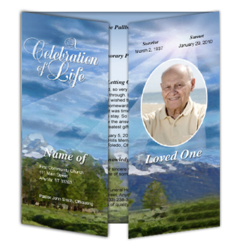 I absolutely love the new gatefold program templates provided by The Funeral Program Site store!
San Francisco, CA (PRWEB) November 21, 2012
The Funeral Program Site is a company that has been servicing the bereaved community and death care industry for almost a decade. This company provides templates that are easy to use and cost effective for the budget conscious buyer. With over dozens of different layouts already within the online's store repertoire, the gatefold program template has been the recent addition.
The gatefold program prints on any home printer on a legal size paper. Known as one of the most unique presentations for a funeral program, the gatefold is truly a lovely keepsake that is set apart from all other formats. Almost similar to a tri fold, the folds come into the center so when opened, gives it a gate opening style.
There are over 350 designs to choose from in the large inventory which gives the family or funeral home, the ability to cater to the style and personality of the deceased. All templates are compatible with Microsoft Word, OpenOffice, Publisher, and Apple iWork Pages.
"We have the largest selection of templates available as well as the best designs. The gatefold program templates provide customers the ability to create this unique program without having to do so from scratch. The gatefold is one of the most difficult layouts to put together from scratch. Now you don't have to do all the hard work", shares Carole Galassi, CEO and Creative Director.
Everyone can now achieve a gatefold program presentation without having to possess any creativity skills. The gatefold is a popular choice among families for a memorial program as well as for weddings. It is not often used within the business community to promote marketing materials such as company information.
"I absolutely love the new gatefold program templates provided by The Funeral Program Site store. I was able to create a beautiful program memorial for my dad and got so many compliments. Little did they know it only took me a few minutes to put together! So extremely pleased with the final program! Thank you!!" shares, Dorothy, a recent online customer.
Gatefold program templates are available on the store's website for immediate download with full customer support 7 days a week. The company has been known for the excellent customer service as well as for the best designs available in a funeral program template.
To view the new line of templates and more memorial items, visit the company online superstore at http://www.FuneralProgram-Site.com.