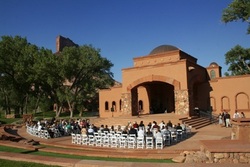 The scenery at Gateway Canyons is breathtaking and makes any event here special, particularly a wedding, but it's our trained and friendly staff that makes it spectacular
Gateway Canyons, CO (Vocus) July 30, 2010
The journey of a lifetime is the journey of the heart, and a wedding at Gateway Canyons marks an auspicious beginning to one of life's greatest adventures. Gateway Canyons was conceived and designed as a place for people to gather, share and celebrate, and never more so than for a wedding.
"The scenery at Gateway Canyons is breathtaking and makes any event here special, particularly a wedding, but it's our trained and friendly staff that makes it spectacular," said Denise Wall, Gateway Canyons Event Planner. Wall and her staff can assist couples in planning all the details of their Gateway Canyons wedding, including choosing an on-site indoor or outdoor location, reviewing menu and catering options, and setting up accommodations for the wedding party. Gateway Canyons events staff can also offer reliable resources for wedding photography, cake and flowers.
Depending on personal preferences, couples can choose from venues and settings that range from dignified formal-- to Colorado casual--and from grand to intimate. Bride and groom take center stage at the new Mission Bell Amphitheater, an outdoor venue that can hold as many as 300 guests. Summer through fall, nature in all its seasonal glory is the backdrop for events held here. Canyon views, reflective ponds, and even a meandering stream are a few of the visual delights.
Beautiful natural settings are abundant at Gateway Canyons; another outdoor, picture-perfect location for weddings is the Cottonwood Terrace. This shady alcove is close to a brook and an ideal place to tie the knot and stage post ceremony events for smaller groups. For horse-lovers or couples looking to add western style ambiance to their special day, The Stables at Gateway Canyons is Colorado ranch elegance at its finest. The well-groomed horses that call The Stables home aren't shy about posing for wedding photos either.
For more formal receptions and banquet events there is the newly opened Palisade Event Center, named for the geological formation that dominates the Gateway Canyons landscape. A combination of interior spaces and outdoor patios provides brides and grooms with many possibilities for creating the wedding reception of their dreams, while an extensive chef-created banquet menu allows them to tailor the selections to both taste and budget.
Gateway Canyons also helps couples and wedding parties indulge in pre-wedding pampering. The newly opened spa offers guests a menu of relaxing massage and nurturing facial treatments that will help brides (and grooms) remain tranquil and smiling through all the nuptial festivities. Stylists at Gateway Canyons' new hair salon can also assist with manicures, pedicures, and hair styling for brides and bridesmaids so everyone can feel their most confident and beautiful on the big day.
The wedding party and guests will find Gateway Canyons' 54 rooms comfortably elegant. Guests can choose either the Dolores River Inn or the deluxe Kiva Lodge which features private outdoor patios. All the units have easy access to the large outdoor swimming pool and hot tub. The Adventure Center can arrange hiking, biking, horseback riding and many other seasonal activities. Rehearsal dinners are easily accommodated at the Paradox Grille, and for less formal meals, casual dining is available at the Kiva Café and the Paradox-To-Go deli and coffee bar located inside the Outpost General Store.
For many people the greatest journey is the one they share with the love of their life. For more information about planning a wedding at Gateway Canyons, please contact the Gateway Canyons at 970-931-2655 or http://www.gatewaycanyons.com/gather/weddings.
About Gateway Canyons
Gateway Canyons is a premier resort destination with 54 rooms, state-of-the-art meeting facilities, full amenities, breathtaking scenery, a range of outdoor activities, and the Gateway Colorado Auto Museum. It is the home of Curiosity Retreats, a place where high quality learning opportunities and the surrounding natural beauty combine to create a one-of-a-kind destination experience.
Located one hour southwest of Grand Junction on Colorado Scenic and Historic Byway 141, this destination is easily accessible. Frequent flights are available from Denver, Dallas, Phoenix and Salt Lake City at the full service Grand Junction Regional Airport. Private planes may arrive in Grand Junction or Montrose. Rental cars and shuttles are available. For more information, call 866.671.4733 or visit http://www.gatewaycanyons.com/press-room for an online press kit, press releases, and downloadable photographs.
Media Contacts:
Tammy Anderson, Director of Lodging and Guest Experience
Gateway Canyons
970.931.2647
tammy (dot) anderson (at) gatewaycanyons (dot) com
or
Vicky Nash, Public Relations Representative
Resort Trends, Inc. – Tourism & Resort Communications
970.948.4923
Vicky (at) ResortTrends (dot) com
# # #