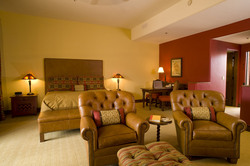 With five years experience in operating the resort, we are better able to respond to the needs of our guests throughout the seasons, matching our operations to guests needs across all seasons
Gateway, Colorado (Vocus) September 8, 2010
As another successful summer season winds down at Gateway Canyons, the premier resort and outdoor outfitter on Colorado's Western Slope is preparing for the slower off-peak season which begins in mid-November with shorter hours and reduced days of operations.
"With five years experience in operating the resort, we are better able to respond to the needs of our guests throughout the seasons, matching our operations to guests needs across all seasons," relayed Tammy Anderson, Director of Lodging and Guest Services.
Guests of Gateway Canyons can still enjoy cozy and stylish overnight accommodations all winter long. Guest rooms include a range of options from standard rooms to deluxe suites at either the Dolores River Inn or the Kiva Lodge, from check in Wednesdays through checkout Sundays.
Gateway Canyons' excellent food service will also continue with the Paradox Grille serving culinary delights for lunch and dinner Wednesday through Saturday under the discerning eye of Chef Larry Pirner, and the Paradox-to-Go catering to guests during the morning hours. The Outpost General Store, the onsite market, coffee bar and deli, will remain open Wednesday through Sunday from 8:00 AM to 4:00 PM.
Other amenities will be available on a limited basis. The Stables at Gateway Canyons will be open for rides and events by appointment only throughout the winter, but The Spa at Gateway Canyons, the Adventure Center at Gateway Canyons and Gateway Colorado Auto Museum will only be opened exclusively for groups booking through Gateway Canyons guest services. To arrange for customized group activities, please contact Denise Wall at 970-931-2655.
"The winter season at Gateway Canyons recognizes our seasonality, but also enables us to create a healthy, symbiotic relationship with other area destinations whose high season is in the winter, such as the ski industry. For our valued staff members, there is an excellent opportunity for them to participate in this lucrative season. In the spring, they will come back and pick up where they left off at Gateway Canyons," said Mandy Woulfe, Director of Human Resources for Gateway Canyons.
Gateway Canyons makes the most of the off-peak winter season by continuing to make improvements to the resort. Last year's projects included the completion of the new Adventure Center, a remodeled guest reception area, and the Festival Walk promenade – an area that houses artisans and craftspeople during events like Gateway Canyons' annual Labor Day BBQ Blues celebration. While normally reserved about revealing plans, Gateway does indicate that the Hendricks Collection of classic automobiles will likely be seeing some new additions over the winter. Guests can get a first glimpse when the doors officially reopen in March, a little more than a month ahead of the 6th annual Gateway Canyons Classic Autofest on May 7, 2011.
About Gateway Canyons
Gateway Canyons is a premier retreat destination with 54 rooms, state-of-the-art meeting facilities, full amenities, breathtaking scenery, a range of outdoor activities, and the Gateway Colorado Auto Museum. Located one hour southwest of Grand Junction on Colorado Scenic and Historic Byway 141, this destination is easily accessible. Frequent flights are available from Denver, Dallas, Phoenix and Salt Lake City at the full service Grand Junction Regional Airport. Private planes may arrive in Grand Junction or Montrose. Rental cars and shuttles are available. For more information, call 866.671.4733 or visit http://www.gatewaycanyons.com/press-room for an online press kit, press releases, and downloadable photographs.
Media Contacts:
Tammy Anderson, Director of Lodging and Guest Experience
Gateway Canyons
970.931.2647
tammy (dot) anderson (at) gatewaycanyons (dot) com
or
Vicky Nash, Public Relations Representative
Resort Trends, Inc. – media communications for the travel & tourism industry
970.948.4923
Vicky (at) ResortTrends (dot) com
###