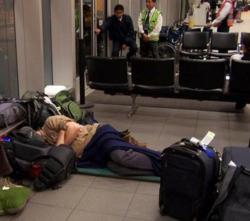 Help alleviate the stress and guarantee a smooth, enjoyable holiday vacation
Tucson, Arizona (PRWEB) August 30, 2012
With the holiday season fast approaching, traveling can be stressful if you are not organized and plan ahead. Gateway Destinations is pleased to share a few travel tips that can help alleviate the stress and guarantee a smooth, enjoyable holiday vacation!
Preparation - Planning ahead is a big key to traveling as stress-free as possible. Begin by planning your trip at your earliest convenience. This will help ensure lower airfare, a preferred airline schedule and desired accommodations. Short on time or ideas? Contact a travel consultant as they can prepare everything for you including flights, car rentals, hotel, excursions, etc. They will also organize all of your travel documents for you, creating peace of mind and a more stress-free travel experience.
Give yourself time – Winter weather can create havoc and cause delays during holiday travel. Allow yourself more time to get to the airport and for connections than you normally would. In states with icy or snowy conditions, allowing plenty of time will help make certain you get to the airport with enough time to check in and proceed through security as airports are busier with increased numbers of travelers. If possible, try to avoid flight connections in cities that often have snow and icy conditions.
Gifts – During Christmas and Hanukah, it is important to remember to pack your gifts unwrapped! Security personnel will often remove and unwrap the gifts for further inspection. Although this high level of security is to ensure the safety of all passengers, it may delay your travel plans and disturb your nicely-wrapped gifts.
Do research – If you are traveling with children, it is recommended that you learn the car safety seat requirements for the area being visited. Obtaining the necessary safety equipment in another state is far easier than in another country, so plan in advance. Laws vary widely by country. There are helpful websites such as Child Car Seats where you can read about the requirements for all countries.
For further Holiday Travel information, contact Jan Acorn with Gateway Destinations, 888-429-1242. You may also visit their website at http://www.gateway-destinations.com.
About Gateway Destinations
Gateway Destinations, LLC provides custom travel planning services for individuals, couples and small groups to Alaska, Hawaii and foreign destinations. In addition, Gateway creates and escorts custom small group tours to Europe, specializing in escorted tours for women.