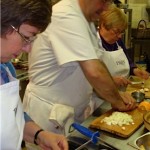 Americans are now indulging their favorite hobbies or exploring new interests through highly specialized vacations
Tucson, Arizona (PRWEB) September 26, 2012
Themed travel tours offer travelers a new way to relish their vacations and create deeper, lasting memories. Whether it is practicing yoga in India or learning to cook exquisite regional cuisine in Provence, Americans are now indulging their favorite hobbies or exploring new interests through highly specialized vacations.
Bicycling may be an avid passion for many, but peddling through unknown lands or following the paths of the infamous athletes of the Tour de France may take it to new heights. Listening to an opera while sitting in an ancient amphitheatre in Europe may add a dimension of richness to a favorite classic never before imagined. Or perhaps a journey to discover the origins of religion will deepen one's faith? Travel now offers an expanding number of options to satisfy even the most curious and well-traveled voyager.
Gateway Destinations responds to this demand by offering themed tours such as an all-inclusive barge cruise that introduces travelers to the beautiful Bordeaux wine region of France; a delectable culinary exploration and spa indulgence for women-only in the Chianti region of Italy; and an intimate journey into the French Basque region to discover the foods, traditions, history and scenic beauty of this less-traveled area to name a few. Ideas are endless, which is why Gateway Destinations also creates custom journeys to fit a variety of interests and passions!
About Gateway Destinations
Gateway Destinations, LLC provides custom travel planning services for individuals, couples and small groups to Alaska, Hawaii and foreign destinations. In addition, Gateway creates and escorts custom small group tours to Europe, specializing in guided tours for women.