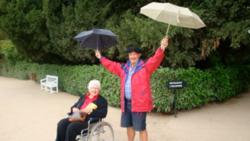 Airlines are prohibited to discriminate on the basis of disability
Tucson, Arizona (PRWEB) January 30, 2013
Air travel can be stressful due to the large number of travelers and increased security, but it can be especially frustrating for passengers with physical disabilities. Gateway Destinations has compiled some information to help make flying smoother and more relaxing for travelers with special needs, disabilities, and health conditions.
According to the Air Carrier Access Act of 1986 (ACAA), airlines are prohibited to discriminate on the basis of disability and in 2000, the ACAA was further expanded to include foreign airlines that operate within the United States. Following these guidelines, airports should provide services such as:

Access to parking near the terminal
Accessible restrooms and drinking fountains
Medical aid station
Specific accommodations as needed on an individual basis
Travelers with disabilities may, but are not required to, notify an airline in advance of their intention to travel; however, certain accommodations that require preparation (i.e. using medical oxygen on the plane, connecting to a respirator, etc.) may require 48-hour notification. If passengers opt for aid, specific needs can be arranged while booking the flight or during check-in. Assistance can include seating arrangements on the plane, transportation via wheelchair to/from terminals, and help with baggage collection.
Medical equipment such as crutches, wheelchairs, and canes are all approved equipment to take onboard the plane following security clearance. The flight crew will help stow the equipment in a TSA approved location for the duration of the flight. Medical equipment that must be stowed in the belly of the plane, such as motorized wheelchairs/scooters, take priority over all luggage and they are not counted against the passengers checked luggage.
Please visit the Transportation Security Administration(TSA) website, which includes a list of links that describe what passengers with different disabilities and medical conditions should expect when being screened at the airport. Passengers can also download a Disability Notification Card for Air Travel to help notify airport officials of a specific medical condition.
For further information or questions contact Jan Acorn with Gateway Destinations, 520-529-1242. You may also visit their website at http://www.gateway-destinations.com.
About Gateway Destinations
Gateway Destinations, LLC provides custom travel planning services for individuals, couples and small groups to Alaska, Hawaii and foreign destinations. In addition, Gateway creates and escorts custom small group tours to Europe, specializing in guided tours for women.