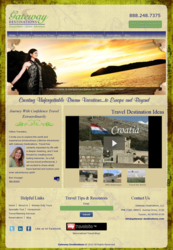 I love how I can almost feel myself on vacation when visiting Gateway Destinations' new website
Tucson, AZ (PRWEB) August 01, 2012
Gateway Destinations is delighted to announce the launch of their totally redesigned travel website, viewable at http://www.gateway-destinations.com. The website welcomes guests with a unique European feel, ease of use and travel related multi-media to engage visitors in exploring travel ideas.
The new site provides visitors with an abundance of complimentary travel resource information including travel tips, a travel checklist, and the opportunity for each visitor to create their own travel website to share their memories with family and friends and even request vacation information to be sent to them based on personal preferences. If you are planning a customized vacation, you can also schedule a free 15-minute consultation by phone.
"I love how I can almost feel myself on vacation when visiting Gateway Destinations' new website," commented Janell Jellison of Tucson, Arizona. "It is much easier to search for information and I like how informative the drop-down listings are. It's also great to learn that they can plan family vacations, from family heritage trips in Europe to spectacular Disney adventures and everything in between."
Gateway Destinations' new website is ideal for couples wanting to explore luxurious customized honeymoon vacations, solo female travelers seeking safe, fun travel with other like-minded women, families (including intergenerational family groups), couples and friends traveling together in small groups. From river, ocean, barge or private yacht cruises to escorted land tours, and their specialty of customized independent journeys, Gateway's new website simplifies your travel search.
About Gateway Destinations
Gateway Destinations, LLC provides custom travel planning services for individuals, couples and small groups to Alaska, Hawaii and foreign destinations. In addition, Gateway creates and escorts custom small group tours to Europe, specializing in escorted tours for women.