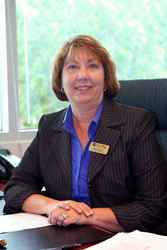 the strong reputation GateWay has for occupational education and a commitment to serve diverse populations
Phoenix, AZ (Vocus) September 17, 2010
GateWay Community College (GWCC) welcomes Dr. Paula Norby as the new Vice President for Academic Affairs. Dr. Norby comes to GateWay with an excellent breadth of administrative experience and a background that fits well with GateWay's academic structure and offerings.
What attracted her to GateWay, was "the strong reputation GateWay has for occupational education and a commitment to serve diverse populations," Dr. Norby said. "Embracing the community is at the forefront of the college and is something I value and am excited to participate in." Throughout her career, Dr. Norby has served on several community boards including a Local Theater Company, Big Brothers/Big Sisters, a local nonprofit health clinic and the County Asset Building Coalition among others and will draw on her experiences to continue the success of the college's community involvement.
Dr. Norby's career in higher education has spanned well over two decades. For the past twelve years in workforce administration, first at Pierce College District in Washington and most recently at Tacoma Community College in Tacoma, Washington as the Dean for Workforce, Basic Skills and Corrections Education. In this role, Dr. Norby provided leadership for WorkFirst, Worker Retraining, Tech Prep, Integrated Basic Education and Skills Training, contracted education, Adult Basic Education, English as a Second Language, corrections education, paraeducation, and Associate in Elementary Education Degree programs. Dr. Norby began her career in education as an adjunct faculty member.
Dr. Norby has seen many accomplishments in her career and hopes to add many more in her new role. "I hope to continue the growth of the occupational programs and university transfer programs as well," Dr. Norby said. "It is a goal of mine to make sure students have the ability and opportunity to transfer to a university."
As the Vice President for Academic Affairs at GateWay, Dr. Norby's main responsibilities are to oversee the 125 associate degrees, certificate and workforce training programs, as well as the faculty that facilitate them, and ensure program offerings are meeting the needs of our students, the workforce and surrounding community. Additionally, Dr. Norby will oversee the instructional support services, such as the Library and Learning Center.
Dr. Norby has a Doctorate in Community College Leadership from Oregon State University and a Masters Degree in Occupational Education from Central Washington University. Dr. Norby officially began on September 1, upon the retirement of the current Vice President, Dr. Jolyne Ghanatabadi.
About GateWay Community College
As one of the Maricopa Community Colleges, GateWay Community College is a fully accredited public institution of higher education located in Phoenix, AZ. Offering more than 125 programs in the following areas of study: Apprenticeships, Automotive, Business, Environment, Healthcare, Industrial Technology, Information Technology, Liberal Arts, Math and Science, and Nursing, GateWay has emerged as a leading institution to meet the needs of business and industry. GateWay has been designated a Hispanic Serving Institution and a Military Friendly School. Visit GateWay Community College or call (602) 286-8046 for more information.
# # #