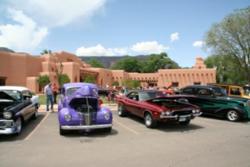 It's an inspiring event fueled by a passion for collecting, restoring and admiring classic American cars, and the role these inimitable machines have played in history
Gateway, Colo. (PRWEB) April 18, 2011
On May 7, the annual Gateway Canyons Classic Auto Fest shifts into high gear at Gateway Canyons, the boutique resort and premier adventure outfitter located on the Western Slope of Colorado. The event showcases the personal collection of John Hendricks, Discovery Channel founder, housed at the Gateway Colorado Auto Museum and valued at over $10 million. Every year, the Auto Fest draws hundreds of vintage-automobile aficionados who come to appreciate classic American-made cars, display their own collectibles and enjoy a day or a weekend at Gateway Canyons.
In addition to the Auto Fest, Gateway Canyons is a natural draw for car enthusiasts any time of year. One of the resort's major attractions is the Gateway Colorado Auto Museum, with its inventory of pristine classic cars arranged in a timeline that spans 100 years of automotive history, making it the ideal place for car hobbyists to gather. Car clubs like the Colorado Corvette Club will be visiting in late April, and the Wild West Racers Cobra Club from California will rendezvous at Gateway Canyons in May.
"The Gateway Canyons Classic Auto Fest celebrates the anniversary of the Gateway Colorado Auto Museum. It's an inspiring event fueled by a passion for collecting, restoring and admiring classic American cars, and the role these inimitable machines have played in history," said Tammy Anderson, Director of Lodging and Guest Experience for Gateway Canyons.
Visitors to this year's Auto Fest will have the added thrill of admiring three vehicles recently added to the Hendricks collection at the museum: a 1965 Chevrolet Chevelle Malibu SS, a 1934 Cabriolet and a 1931 Stutz. Each of these American beauties has a story — the '65 Chevrolet is one of only 201 built, the '34 Cabriolet was notorious bank robber John Dillinger's favorite choice for a getaway car, and the '31 Stutz boasts a DV32 inline eight cylinder with 32 valves per cylinder.
With John Hendricks' personal enthusiasm for the automobile, combined with the prestige of Gateway Colorado Auto Museum and the amenities of Gateway Canyons, the resort was a natural choice for an overnight stop for the 2011 World Race that passed through Gateway, Colorado, on April 23. The World Race is an automobile race that takes drivers from New York to Paris; the 2011 World Race commemorated The Great Auto Race of 1908, a record-breaking epic test of man and machines that covered 22,000 miles over the course of 169 days. This year, Auto Fest attendees can find out even more about this intriguing event.
Other Auto Fest highlights will include 23 Best of Class categories with awards in each category. Classic and antique cars from the early 1900s through the 1970s will be on display as will American classics that include Camaros, Corvettes and Mustangs; hot rods, muscle cars and pick-up trucks will round out the exhibition. Awards will also be given for Best of Show, Best of Marque, Gateway Auto Museum Choice, Partner's Choice and People's Choice.
The Gateway Canyons Classic Auto Fest is a benefit for the Mesa County Partners program. A portion of the proceeds will stay in Western Colorado to provide services to youth who face challenges in their lives. The Partners program is devoted to helping young people overcome issues such as criminal behavior, substance abuse and unemployment. The goal is to provide opportunities for youth to have positive role models in their lives and to learn from their mistakes. For more about the Mesa County Partners, visit http://www.mesapartners.org.
Tickets to the Gateway Canyons Classic Auto Fest are $15 for adults and $10 for children 12 and younger. Admission includes entry to the festival grounds, admission to the Gateway Colorado Auto Museum and a charitable donation to the Mesa County Partners. Visitors have the chance to win a lottery, drawings and door prizes, as well as enjoy the opening ceremony. Food and craft vendors, auto services and music will add to the festive atmosphere. For more information about the Gateway Canyon Classic Auto Fest on May 7, please visit http://www.gatewayautomuseum.com or contact Denise Wall at 970-931-2655.
Visitors to the Gateway Canyons Classic Auto Fest can stay on site at Gateway Canyons. The Dolores River Inn and the Kiva Lodge offer accommodations that range from standard rooms to premium suites. For lodging information, please visit http://www.gatewaycanyons.com or telephone 866-671-4733 or 970-931-2458.
About Gateway Canyons
Gateway Canyons is a premier Colorado retreat destination located one hour southwest of Grand Junction on Colorado Scenic and Historic Byway 141. The resort features 54 rooms, state-of-the-art meeting facilities, an activities center, a spa, stables, several restaurants and the Gateway Colorado Auto Museum. Frequent flights are available from Denver, Dallas, Phoenix and Salt Lake City at the Grand Junction Regional Airport. For more information, call 866-671-4733 or visit http://www.gatewaycanyons.com/press-room for an online press kit, press releases and downloadable photographs.
Media Contacts:
Tammy Anderson, Director of Lodging and Guest Experience
Gateway Canyons
970-931-2647
Tammy(dot)Anderson(at)gatewaycanyons(dot)com
or
Vicky Nash, Public Relations Representative
Resort Trends, Inc. – media communications for the travel & tourism industry
970-948-4923
Vicky(at)ResortTrends(dot)com
# # #