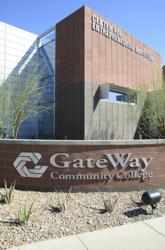 Phoenix, AZ (PRWEB) May 18, 2012
The Center for Entrepreneurial Innovation (CEI) at GateWay Community College in Phoenix is kicking off its business seminar and workshop schedule with several interesting program tracks.
CEI is a comprehensive business incubator focused on further developing small businesses in the areas of bio/life-science, clean technology, software and technology services.
As part of the facility's overall program, CEI provides business develop seminars on a broad base of topics critical to entrepreneurial success. These seminars, include topics such as bioscience manufacturing, patent law, and website analytics.
Beginning on May 23, CEI will also host a Free Lunch & Learn series with the Arizona Small Business Development Centers (SBDC). These two-hour techEDge workshops are part of an intensive, technology focused entrepreneurship program intended for science or technology based startups that are in the concept phase, early stage or growth mode.
The first workshop, Team Building for a Technology Venture, is scheduled for May 23, 11:30 a.m. to 1:30 p.m.
In addition, on a bi-weekly basis, CEI will also host a Thursday seminar series. On May 31,11:30 a.m. to 1:30 p.m., Identifying and Protecting Your Intellectual Property workshop will be presented by Ron Kisicki, a patent attorney with over 20 years of experience. This workshop will present an overview of the various aspects of intellectual property law and help entrepreneurs learn how to protect their assets.
CEI partners with individuals in the community and other organizations, like SBDC, to lend expertise to entrepreneurs, small business owners and start-ups to aid in business development for the region. Workshops will be held at CEI, which is adjacent to GateWay Community College at GateWay Drive/38th Street in Phoenix.
All workshops are free and open to the public, but seating is limited. To make a reservation, contact Monique Jones at (602) 286-8955 or monique(dot)jones(at)ceigateway(dot)com.
Future Programs at CEI
May 30, Tax Credit Programs
May 31, Identifying and Protecting Your Intellectual Property
June 6, Sales for the Technology Venture
June 13, Intellectual Property: Strategic Patent Management
June 20, Funding for your Venture
June 27, Legal Issues for Emerging Entrepreneurs
View a list of all CEI programming events.
GateWay Community College is one of the 10 regionally accredited Maricopa Community Colleges.