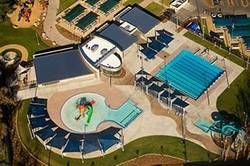 We've always run great city programs, but since the park redevelopment, we've seen a boost in community turnout. With this new facility we were able to add a master swim program, more aquatic exercise classes and even host birthday parties
Yuba City, CA (Vocus) August 26, 2008
From a celebration barbecue to a swim meet teeming with Olympic hopefuls, the first full summer of operation for Gauche Aquatic Park in Yuba City proves to be a welcome addition to the northern California community. The 9-acre park designed by Roseville-based architecture firm LPA Inc., has hosted more than 50,000 visitors this summer. With three pools and an attached 10,000-square-foot community pool building, GAP is home to aquatics programs, city events and endless hours of summer fun.
As the region's premier aquatic venue, the GAP pools provide much needed water-related programs, meeting spaces and park amenities. Prior to its opening in fall of 2007, swimmers had to share an outdated pool with limited use.
"We've always run great city programs, but since the park redevelopment, we've seen a boost in community turnout. With this new facility we were able to add a master swim program, more aquatic exercise classes and even host birthday parties," said Recreation Supervisor Abbie Cesena.
The project, a major goal of the 1992 Central City Specific Plan for downtown revitalization, was completed as the summer season ended last year. Aside from the obvious benefits to swimmers, the facility also provides a connection to the downtown Yuba City area as the heart of the city's recreational hub.
"Right now we are in the middle of an entire modernization program and GAP really sets the tone for this movement. The strength of the aquatics park is that it gives everyone from one-year-old to 90-years-old the opportunity to use this facility," said Interim Parks and Recreation Director Brad McIntire.
The value of the $16.4 million facility far exceeds the boundaries of the park as GAP is also a revenue generator for surrounding local businesses. Swim competitions and other events are bringing in tourist dollars the city had not seen before. While the true impact of the park is still being measured, GAP is proving to be a model for smart growth.
"This facility brings a huge draw to the area. We've had people come from as far as Chico. Bringing in all these visitors provides us an opportunity to support our economic development which is so important right now," says McIntire.
Attracting fun seekers is not the only splash the park is making. Recently GAP received an 2008 Dream Design award from Aquatics International Dream Designs submitted by LPA, and is also being considered for another award from Real Estate and Construction Review Magazine as one of the top 100 most important, innovative or unique renovation projects in the Northern California region.
The city had a clear vision of what its residents wanted and our design team was able to translate that into a remarkable project," said Landscape Design Principal Kevin Sullivan. "We worked collaboratively and imaginatively to create a sustainable, well-designed, user friendly aquatic center and park space for this community."
The park will be open until late October but closes its daily swim programs in September.
For a complete list of all Gauche Aquatic Park Design Features, see the complete press release or the attached document.
About LPA, Inc.
With offices in Roseville and Irvine, CA, LPA, Inc., is one of the largest integrated design firms in California, providing professional services in the fields of architecture, landscape architecture, land planning, urban development, interior design and graphics. Since its establishment in 1965, LPA has been known for its creative design solutions and strong project management expertise. The firm and its principals are continually recognized for their leadership in providing innovative solutions in all aspects of the built environment, as confirmed by more than 200 awards for design excellence.
A leading firm with the largest number of LEED-certified projects in the state, and 70 percent of its staff holding U.S. Green Building Council LEED accreditation, LPA has designed a wide variety of sustainable facilities, including civic centers, libraries, office buildings, corporate campuses, schools and college buildings. For additional information about LPA, please visit http://www.lpainc.com.
Contact:
Gretchen Zeagler
LPA, Inc.
(916) 774-3544
gzeagler @ LPAinc.com
# # #