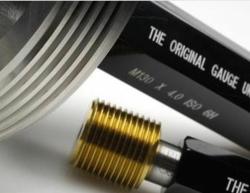 We're well known as a forward thinking and innovative company that always keeps up to date with the latest in thread gauge, screw ring gauge and gauge calibration technology
(PRWEB UK) 23 January 2013
Original Gauge and Calibration Solutions, the UK's leading gauge manufacturer, announced the launch of its new website today. The company, which has been established for more than a century, are leaders in the field of non-standard thread, ring and plug gauge manufacture and the new website has been designed to reflect the company's modern approach.
Russell Hicks, CEO of Original Gauge and Calibration Solutions, explained why the company felt now was the perfect time to launch a new site:
"We're well known as a forward thinking and innovative company that always keeps up to date with the latest in thread gauge, screw ring gauge and gauge calibration technology so we felt it was only right that our website should be up to the minute too."
"At Original Gauge and Calibration Solutions we always work hard to ensure that our customers get the service they deserve, whether that's making sure we stock only the best gauges to creating a comprehensive and user friendly website that customers will want to return to again and again. The current site is phase one of a much larger project which will revolutionise gauge purchasing and calibration services on a global scale which is a very exciting opportunity for us."
Gauge an Exciting Future
Web design and SEO gurus Wonderlabs SEO explained more about the 3 phase development plan for the company:
"We created a bespoke brochure site for Original Gauge and Calibration Solutions that we feel is much easier for customers to use than their old site. We employed the services of Simon Munster, one of the country's best website photographers and have created a second to none site. The company are already receiving positive feedback from clients and we're very excited about the next phase."
Although the next step in the project is being kept as a closely guarded secret, according to industry insiders the launch of a new total Gauge and Calibration Solution, which is set to take place sometime next year, is causing a huge stir within the gauge and calibration industry. Phase two of the project will see the company's site become fully e-commerce so customers will be able to order online easily.
"There's been lots of speculation about exactly what it is we're planning," explained Russell Hicks "but as yet no one's managed to hit the nail on the head. We're sure that when phase three is launched gauge companies across the world will be trying to recreate what we're doing."
A Quality Company
As one of the UK's most well established companies, Original Gauge and Calibration Solutions have always provided the highest standards of service to clients and today provide both traditional gauges and computer business systems designed to make managing gauge calibration easy. In addition to gauges manufactured on Matrix Churchill thread grinding machines the company provides ongoing customer support, , on site calibration services and cost saving opportunities through its Global Gauge Database which offers clients a bespoke software package for gauge inventory, unused gauges and calibration management reduction.
Russell Hicks believes that the ethos of the company has played a big part in establishing them as leaders in the field.
"We offer a huge range of services and products and all our gauges are tested to either C of C or UKAS standards, which means when customers come to us, they know they're getting a service they can trust. We decided to start an exciting new phase in our development, the first part of which is our new website, partly to ensure we maintain our position at the top of the tree but mostly to let our customers know just how much we value them by making our site easier to use."
You can order gauges and other equipment or find out more about the services on offer from Original Gauge and Calibration Solutions by visiting the website.