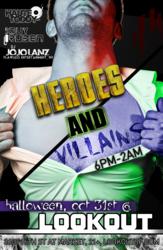 Lookout Bar is the best place in the Castro to celebrate Halloween
San Francisco, CA (PRWEB) October 27, 2011
Lookout Bar invites customers to bring out the heroes and villains inside themselves at their 4-day Halloween Celebration.
Lookout Bar, one of the premier San Francisco bar restaurants, is hosting four days of Halloween parties from October 28th through the 31st at their location in the Castro District.
DJ Brian Maier hosts "The Dark Side" on Friday evening with lights out dancing in the dark from 9 p.m. to 2 a.m.
The party continues on Saturday with Poppers Superhero Halloween. Caped Crusaders and Hunky Heroes join San Francisco's favorite DJ APG; and, direct from New York City, DJ Justin Ryan. A special heroErotic 3-way showing of Iron Man, Captain America, and Thor will be presented from 8:00 p.m. to 2:00 a.m.
On Sunday, customers will enjoy a special edition of "Jock-sports heroes and villains" with DJ's Byron Bonsall and Robbie Martin.
The partying still isn't over because on Halloween night, "Heroes and Villains" continues at the San Francisco party venue as the fun starts at 6:00 p.m. with three epic DJs: DJ Haute Toddy on the decks followed by Guy Ruben, and JoJo Lanz of Flawless Entertainment in New York City.
"Lookout Bar is the best place in the Castro to celebrate Halloween," says General Manager Gregg Crosby.
For more information on Lookout Bar San Francisco's events, give them a call at (415) 658-9212 or visit their website http://www.lookoutsf.com for event details. They are located at 3600 16th Street San Francisco, CA 94114.
About Lookout Bar San Francisco
Lookout Bar, San Francisco's gay bar, is one of the Castro District's premier bar and restaurant. They provide a wide array of bar drinks and menu to serve their guests, as well as weekly events for their guests to enjoy.
###