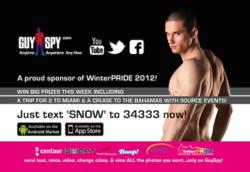 We are really excited about being up in Whistler this year as the municipality is officially recognizing the event for the first time and will mark the occasion with Whistler's first ever gay pride parade
Vancouver (PRWEB) February 07, 2012
WinterPRIDE, named one of the world's best Gay Ski Weeks, hits the snow hard this year with premiere Gay Blog and mobile dating app, GuySpy.
Stark Mobile Media is pleased to partner with Whistler's WinterPRIDE 2012 again this year to celebrate their 20th year. GuySpy recently launched versions 3.0 of its leading Gay Dating app for both iPhone and Android. The apps present the best in GPS mapping and communication featuring HD video, classified photo viewing, voice greetings online favorites notification and travel mode.
Morris Chapdelaine, Executive Editor with GuySpy said, "We are really excited about being up in Whistler this year as the municipality is officially recognizing the event for the first time and will mark the occasion with Whistler's first ever gay pride parade. In addition to giving away prizes like DVD's, T-shirts and caps we are also giving away a trip for 2 to Miami and a cruise to the Bahamas courtesy of travel partner Source Events. All guys need to do is be in attendance and text 'SNOW' to 34333 to be entered to win all week long."
The GuySpy team will be seen all week long in the village and up on the slopes with Bump! TV crew and host Charlie David shooting scenes for an upcoming episode on Whistler.
Grand Prize vacation give-a-way will happen at the GuySpy Apres Ski Party, Friday, February 10th at The Whistler Conference Center.
About Stark Mobile Media
Stark Mobile Media develops and distributes web, mobile web, and mobile applications to North American markets. Its flagship product, GuySpy, is a location-based mobile dating product that combines the intimacy of voice and photos with the immediacy of location. GuySpy is available for iPhone/iPad/iPod, Android, mobile web and web.
About Alpenglow Productions/GayWhistler
GayWhistler (http://www.gaywhistler.com) is a year-round promoter of Whistler to the gay and lesbian community, and promotes and produces the annual Gay Ski Week. GayWhistler is a subsidiary of Alpenglow Production Corporation.
###