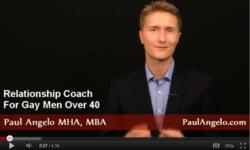 Gay men carry relationship pathology from the start says Paul Angelo, gay relationship coach and matchmaker for Gay Men Over 40
Miami, FL (PRWEB) September 29, 2011
Washington Post and Hollywoodreporter wrote recently about a video in which Patty Stinger made harsh comments about the gay community. According to Patty Stinger, "Gay Men Whip It Out At Eye lock".
Gay dating and gay relationships don't have to be all about sex. Paul Angelo, the Miami gay matchmaker who incorporates health, and lifestyle coaching into gay relationship coaching and gay matchmaking offers a solution to Patti Stanger's frustrations with gay men.
Angelo explains why gay men are focused on sex: "gay men carry relationship 'pathology' from the start" says Angelo.
Angelo offers three reasons why Patti Stanger is frustrated with gay relationships. Angelo also presents a solution to successful gay matchmaking.
First, Patti Stinger is single. Would you let an accountant do your taxes if he couldn't do them for himself? Of course not. Relationships are not based on logic or common sense, so unless the matchmaker has a relationship of her own, she has limited insight into the relationship dynamic, including conflict resolution, intimacy issues and subconscious communication.
Second, asking a straight woman to match gay men is a big mistake. Gay relationships are different from straight relationships. For example, communication stages between two gay men start with physical and then go into emotional and logical. For straight people, women will force the logical and emotional stage first.
Lastly, as mentioned earlier, most gay men have a built in relationship pathology that creates frustrations and disappointments in relationships from the start. Why? Because of the suppression and hiding that occurred in most of their lives. This pathology makes gay men over 40 almost incapable of having a successful relationship ever. So, it doesn't help to criticize their sexual habits and desires without first understanding what is behind it.
And behind it is the discrimination from the straight community and the suppression of homosexual feelings that made those men incapable of healthy gay relationships. So, the bath houses and hookup-websites are the inheritance of the hidden world of sex that used to be the only way to express attraction. And their existence, while incomprehensible for a straight person, is necessary in a world of discrimination and apathy.
In addition, in straight relationship, the support for marriage and relationship starts early and is ongoing. Questions like these are common place in a "straight" home: When will you get married? When are you going to start a family?
In gay relationships, such support is lacking. In many cases gay men don't talk to their families and are confused about marriage and family issues.
So, what is the solution to Patti's frustrations and to gay relationship issues? You ought to first learn about relationships from a relationship coach and expert. Just like you studied business and learned how to read, relationships require a learning curve without which your relationships will always be full of frustrations and anxieties.
If you'd like more information about this topic, or to schedule an interview with Paul Angelo please call Paul Angelo at 954-736-9763 or e-mail Paul at PaulAngelo33(at)gmail(dot)com. You can also visit Paul's website at PaulAngelo.com
###