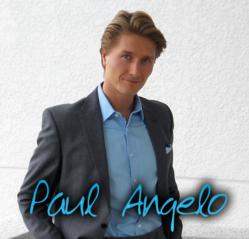 Social Group Coaching is the new way to meet people, make new friends and to uncover obstacles to high performance professional and personal life.
Miami, FL (PRWEB) July 31, 2012
Paul Angelo, the gay matchmaker and gay life coach now offers a unique group coaching program called "Social Group Coaching" that takes a gay man from uncertainty, lack of confidence, shyness and introversion into a socially adapt, confident and unstoppable gay man.
Anyone can join by visiting Angelo's website at http://www.PaulAngelo.com
Angelo's Social Group Coaching offers powerful benefits to gay men. Amongst the biggest one is the possibility of making life-long gay friends and lovers.
According to Angelo, in comparison to traditional therapy, when a gay man hires a gay psychologist or a gay therapist, it is unlikely that the therapist will introduce him to other clients due to confidentiality and privacy concerns. So, it is up to the client to meet others on his own.
Angelo's Social Group Coaching changes the individual approach to learning. While still remaining anonymous, the client can chose at any time to open up and share with the group. When ready, the client can show up for live events and group travels.
Additional benefit of Social Group Coaching is convenience. Most professionals today are busy with work. Driving to gay-friendly centers, which can sometimes be far away, can be very time-consuming. Angelo's gay group coaching solution uses phone conferencing technology so that client can be in his car driving back from work or can sit at home relaxing.
"I think that the biggest reason for using Social Group Coaching is the possibility of intimately getting to know other gay professionals and goal-oriented gay men who are learning how to be better and how to make a difference in the world. I don't know if there is any better way to meet them than through Social Group Coaching. I would encourage any gay man over 40 to join us today," says Angelo.
Anyone can inquire about Social Group Coaching by visiting Angelo's website at http://www.PaulAngelo.com
About Gay Matchmaker and Gay Relationship Coach Paul Angelo MHA, MBA:
Paul Angelo combines the knowledge of psychology, persuasion and communication to help gay men over 40 leverage relationships to transform their lives.
Since starting in 2009, Angelo has taken on multiple clients that had previously seen no hope for a relationship and within 6 months found a partner and moved in together.
If you'd like more information about this topic, or to schedule an interview with Paul Angelo please visit Paul's website at http://www.PaulAngelo.com.