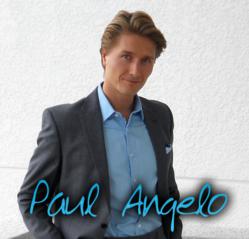 I will not bend rules just because someone is good looking and has a large penis..
Miami, FL (PRWEB) February 28, 2012
New VIP Executive Gay Matchmaking service from Paul Angelo, MHA, MBA promises a new level of confidentiality, speed and safety for gay business owners, gay lawyers, gay doctors, gay politicians and other successful gay professionals who want to avoid gay dating frustrations and relationship disasters present in today's risky gay dating "scene."
Qualified men can visit the website to register for a free consultation. The website's address is:
http://www.PaulAngelo.com/vipExecutive.
How is The VIP Executive matchmaking club different from a typical gay matchmaking service?
Angelo's practical approach to love and relationships produces effortless connections. Angelo's success relies on combining relationship coaching and matchmaking and on introductions based on physical, emotional and logical compatibility. The biggest difference between Angelo's VIP Executive matchmaking club and traditional matchmaking is the comprehensive approach to coaching and non-compromising focus on good health, solid life values and high performance in life.
Angelo will test a candidate with a 200-question test to determine his preparedness prior to being matched with a VIP Executive client. In addition, HIV test and a background test is required immediately after registration.
"Times are changing fast. Men are out of control and instead of focusing on high-standards and solid life values - most services adjust their matchmaking steps to fit current trends. I say no to that. When you work with me you need to do the work," says Angelo.
Why should a successful gay man enroll in the VIP Executive Matchmaking Club?
"Safety, security, confidentiality, knowing that you will not be taken advantage of financially or blackmailed, knowing for sure that the men are healthy and represent the highest standard of gay living - all are reasons why working with me is valuable. I will not bend rules just because someone is good looking and has a large penis," says Angelo.
Angelo's eastern European background shows in his approach. While for some it may come across intimidating, Angelo's emphasis on integrity and responsibility ensures that every step of the way is accounted for and that all matches are easy and effortless for his VIP Executive matchmaking clients.
In addition to Angelo's experience in psychology and communications, his business background offers a unique perspective that no other female or male matchmaker has. Angelo's MBA degree offers insight into what VIP Executive clients are going through in their daily professional lives. This insight gives Angelo advantage in creating successful matches for a goal driven gay business executive, gay lawyer, gay doctor or a gay politician.
Qualified men can visit the website to register for a free consultation. The website's address is:
http://www.PaulAngelo.com/vipExecutive.
"I look forward to hearing from you and helping you find your Total 10 Perfect Match," says Angelo.
About Gay Matchmaker and Gay Relationship Coach Paul Angelo MHA, MBA:
Paul Angelo, originally from Poland, lived in Chicago for 10 years, moved to Miami, quit his job as a health IT manager to become the world's first gay matchmaker for gay men over 40.
Paul Angelo combines the knowledge of psychology, self-management, strategy, persuasion and communication to help gay men over 40 leverage relationships to live the ultimate lifestyle and live a life that is unlimited in potential.
Since starting in 2009, Angelo has taken on multiple clients that had previously seen no hope for a relationship and within 6 months found a partner and moved in together.
By combining strategy, persuasion and psychology, Angelo helps gay men over 40 see a relationship as a sequence of steps that carry a different requirement and which can be taught to anyone who is willing to learn and change.
Those willing to learn can see a significant result just weeks from working with Paul and video testimonials to that affect are available for anyone to see on Paul's website.
If you'd like more information about this topic, or to schedule an interview with Paul Angelo please call Paul Angelo at 954-736-9763 or e-mail Paul at PaulAngelo33(at)gmail(dot)com. You can also visit Paul's website at http://www.PaulAngelo.com.
###