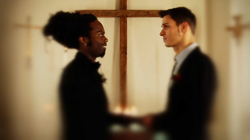 Love is the most fundamental of all human conditions and the most important. We all deserve to love and be loved.
New York, NY (PRWEB) April 12, 2011
In an age of great division between fundamentalist churches and the gay community on the issue of gay marriage, Guyanese alternative soul singer Nhojj celebrates this Easter holiday with his traditional-gospel inspired "Amazing Grace" - a groundbreaking gay music video which gives a new interpretation to the time-honored religious hymn.
"Amazing Grace," arguably the most recognizable of all Christian hymns, was written in 1779 and is a staple in the American landscape. It has been recorded by such diverse artists as Mahalia Jackson, Willie Nelson, Elvis Presley, Judy Collins, Aretha Franklin, Rod Stewart, and Johnny Cash. It has inspired hope in times of tragedy, uplifted African Americans during the era of slavery, rallied anti-war protesters during the Vietnam War, and encouraged countless individuals dealing with issues of alcoholism, drug addiction, illness and death.
This new Nhojj version of "Amazing Grace" expands the innate power of the song to affirm the LGBT community and support gay marriage. It represents a step forward for homosexuals in reclaiming their spiritual lives and healing wounds, an important part of this Easter holiday. Filmed in the historic St. Mark's Church, one of the oldest churches in New York City, this is the first time a well known Christian hymn has been used in a music video to express the "rightness and godliness" of same gender love-- portraying a male interracial couple exchanging marriage vows and living in a loving committed relationship.
"It's a love story..." Nhojj says. "There's a beauty in love. And I hope that beauty is conveyed in this video."
This is the second time the award winning artist has advanced the cause of gay rights with a music video. A year ago he released his original composition "Love," depicting 2 young men falling in love. The video made gay music history remarkably hitting the coveted # 1 spot on the MTV Music video chart. BET's Centric TV Soul Sessions publicly congratulated Nhojj for being "a Black history and a gay history first!"
While many gay themes exist in film and literature, sadly, very few exist in popular music. Even though many music artists like Elton John, Adam Lambert, Ricky Martin, and Clay Aiken have come out of the closet, few have produced same gender loving music or videos.
"I believe it is important to take a look at society and to see ourselves mirrored across all media," Nhojj explains. "We need to feel a part of a greater community, and seeing and hearing our lives through music is an vital part of this equation."
Son of a church minister, Nhojj grew up in Guyana and began singing at the age of 5. In 2005 he released "John Martinborough Coming Home" – interpretations of traditional Christian hymns, which includes this version of "Amazing Grace." Nhojj has incorporated lyrics from "Amazing Grace" in 2 of his original songs - "Lost/Found" from his award-winning 2003 CD "Someday Peace Love & Freedom," and "Things Will Get Better," the 2010 single, released in response to gay suicides due to bullying and abuse.
Nhojj continues his commitment to affirm and uplift LGBT peoples. His Valentine's Day release "He & Him" explores ambient sounds and soulful grooves to create the effect of one awakening from sleep and seeing a vision - his lover's body, "strong and beautiful." It tells a simple story. The lyric refrain is "He loves him."
"Love is the most fundamental of all human conditions and the most important." Nhojj says, "We all deserve to love and be loved."
Follow Nhojj
http://nhojj.com
http://twitter.com/nhojj
http://facebook.com/nhojjmusic
http://youtube.com/nhojjmusic
###