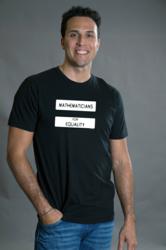 One can only hope that as each year passes, the scale continues tipping toward fairness to all.
Santa Cruz, CA (PRWEB) June 01, 2013
Nerds of the world (of any orientation), unite. Tees For Your Head provides an opportunity to make a statement of support for an end to sexuality-based discrimination and violence. That statement can be either overt or covert, if covert is necessary.
For those able to make an overt statement, the Mathematicians for Equality t-shirt is good for lightening the mood around gay pride. Mathematical formulas everywhere would be ruined without the equal sign, and science itself would be unable to function. It's hypothesized that scientific principles would remain in effect without equality, but human study would be derailed. The tee is doubly funny (for the math-challenged that's funny times two, not funny squared) if the wearer is a mathophile or a professional mathist.
Because Gay Pride month requires people to actually think about their beliefs, the recommended t-shirt for advocating thinkage is Got Frontal Lobes. As geeks familiar with carbon-based life forms know, beings such as nematodes, crickets, and flounders all lack frontal lobes. This part of the brain is responsible for planning and understanding consequences as well as more basic functions relating to motor control and eye movements. If a being cannot think ahead, or moves jerkily and avoids eye contact when reminded that it is Gay Pride month, one can assume that that being is an insect. Or a possibly a flounder.
The social changes around gay pride in American society relate to another geeky t-shirt from Tees For Your Head. The message on this tee can be interpreted through the lens of pride: the Recalculating tee. This t-shirt can be worn without suspicion in a conservative environment and presented as another mathematically-themed t-shirt. At the same time, wearers can use their superior thinking skills (see scientific explanation of frontal lobes above) to send a message that is actually secretly coded for the cognoscenti: all around us, recalculating is taking place.
One can only hope that as each year passes, the scale continues tipping toward fairness to all.
About Tees For Your Head
The online home of geeky t-shirts for lovers of the arts and sciences was launched in 2012. Husband and wife team Tom Bates and Karin Carter have an arts and science background and create their own designs to appeal to the geeks of the world. Santa Cruz tee shirt designs are in the works for this Santa Cruz-based business.
By the way, Tees For Your Head shirts are worn on the body, not really on the head. Just a helpful hint.
Find their unique and nutty tees at http://www.teesforyourhead.com online now.