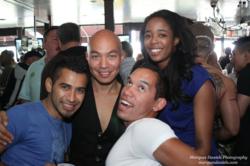 We intend to knock it out of the park and break our own fundraising record this year
San Francisco, CA (PRWEB) March 01, 2012
Lookout, one of San Francisco's best gay bars in the Castro District, is excited to announce the return of Jock Sundays, a weekly afternoon to evening party that benefits various LGBT sports teams and organizations. Jock Sundays will return beginning March 11.
"We intend to knock it out of the park and break our own fundraising record this year. The hottest Sunday party in the city, Jock Sundays, is packed every week with hot, athletic boys and girls!" Gregg Crosby of Lookout said.
Starting at 3 p.m. every Sunday and lasting through the evening, the $2 cover is donated to the LGBT sports team or organization hosting that particular day's festivities. Each party will feature a cast of superstar DJs, ensuring a fun and memorable Sunday party for people of every sexual orientation. Last year's earnings reached over $45,000 for host teams, and Lookout is seeking to top that number this year.
Lookout is a premier http://www.gaybarandrestaura ntsanfranciscoca.com [San Francisco gay restaurant __title__ Lookout Bar] and bar that takes pride in providing an open and welcoming atmosphere for partygoers. Lookout carries a full bar of delectable draft and bottled beers, as well as creative cocktails. Its menu also features meals from bar snacks, sliders and salads to pizzas and tacos.
Lookout likewise provides the perfect private party venue with its spacious bar, intimate ambience and a large balcony that overlooks Market Street. The Lookout staff helps clients plan and carry out seamless parties and events.
For more information about Jock Sundays or Lookout, call 415-658-9212, view the bar restaurant on the web at http://www.lookoutsf.com or visit 3600 16th St. in San Francisco.
About Lookout
Lookout San Francisco is one of the Castro District's premier bars and restaurants. It provides a wide array of bar drinks and menus, as well as weekly events for guests to enjoy.
###