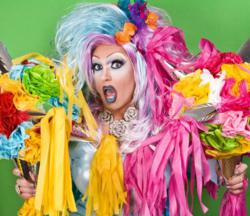 Every Cinco de Mayo, Pollo del Mar hosts the hottest party in the Castro. DJ Byron Bonsall has a fun and amazing set of music to help you celebrate
San Francisco, CA (PRWEB) April 26, 2012
Lookout Bar, San Francisco's best gay bar and private party venue in the Castro District, is thrilled to announce the return of the fifth annual "Pollo de Mayo" celebration on May 5. Although the evening's festivities will begin at 9 p.m. and last until 2 a.m., Lookout will be opening at 12:30 p.m. for those who would also enjoy a daytime celebration.
"Every Cinco de Mayo, Pollo del Mar hosts the hottest party in the Castro. DJ Byron Bonsall has a fun and amazing set of music to help you celebrate. Muy Caliente Go-Go Hombres!" Chris Hastings of Lookout Bar San Francisco said.
The San Francisco bar restaurant will be featuring $2 Tecates, $3 Coronas, $5 Margaritas and $5 Absolut Vodka drinks, plus Pollo will offer her now infamous Jello shot injectors that shoot a load right down the throat. Tasty food specials at the gay restaurant will be served until 10 p.m. and include Chef Dom's amazing ceviche, guacamole and killer tacos. In honor of Pollo de Mayo, Lookout Bar San Francisco will only have a $4 cover charge.
Located at the intersection of 16th and Market streets, Lookout Bar is always at the center of San Francisco's thriving nightlife. The gay bar and party venue takes exceptional pride in providing an open and inviting experience for all guests.
For more information about Pollo de Mayo or any of Lookout Bar's products or services, call 415-658-9212, view the bar restaurant on the web at http://www.lookoutsf.com or visit 3600 16th St. in San Francisco.
About Lookout Bar
Lookout Bar is one of the premier bar restaurants in San Francisco's Castro District. With expansive, yet intimate spaces, and a large sweeping balcony overlooking Market Street, Lookout Bar San Francisco creates the perfect private party venue for any event. Its full bar serves a wide range of draft and bottled beers, as well as delicious cocktails. From tacos and pizzas to fresh salads and more, guests are sure to enjoy their meal and their time at Lookout's open and friendly gay restaurant and bar.