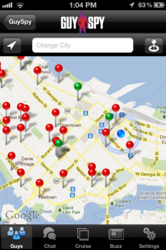 Our members tend to be adventurous, affluent men who travel frequently for both business and pleasure. With GuySpy's Travel Mode, our members can check out the scene in any city in the world, and find out where the best restaurants and bars are
(PRWEB) July 28, 2012
GuySpy, the top-ranked mobile gay dating app for iPhone and Android, has made some its most popular features free to its members.  Travel mode, which lets you drop in on any city in the world and check out the community, is now free on the mobile app.  As well, members can view up to 50 profiles with a simple swipe of the finger.  Want to see the latest member photos? Cruise lets you view the last 100 photos uploaded.
GuySpy for iPhone and Android has seen tremendous growth in membership, according to Morris Chapdelaine, Executive Editor of GuySpy.com.  "We are thrilled to offer to our members features that previously were part of the premium package.  The free gay travel mode is proving to be particularly popular with our users.  Clearly, summer is a time to travel, and GuySpy can help you make friends before you even get there! The popular gay travel show Bump! hosted by Charlie David, has even chosen to showcase GuySpy's travel model as a way to make work and vacation travel even more efficient and fun."
Peter Gill, President of Stark Mobile Technologies, states, "Our members tend to be adventurous, affluent men who travel frequently for both business and pleasure.  With GuySpy's Travel Mode, our members can check out the scene in any city in the world, and find out where the best restaurants and bars are, as well as make contacts.
"Another feature that we're offering free to our members is the expanded profile view.  Now, you can view up to 50 guys around you - that's way more than other apps such as Grindr, Manhunt, or Scruff.  And Cruise, our popular widget that shows the latest photos uploaded by our members, has been expanded to 100 photos.  Talk about great eye candy!
" Using geo-location services, GuySpy displays guys that are around you, online, and looking to chat.  Planning a trip?  Heading somewhere new and want to check out the scene?  For those members with a penchant for travel, you can change your city to view guys from around the world.  Chat with guys, send video and photos - all for free.
GuySpy debuted its app for iPhone  in October of 2010.  Since then, GuySpy for Android, GuySpy for Mobile Web, and GuySpy for Web have been added to the product line.  To date, over 300,000 guys have downloaded the app worldwide.
GuySpy uses location-based services, such as GPS, to connect gay, bi and curious users for free live gay chat.  Users can find gay men by location, view profiles and photos, upload and listen to voice messages, send and receive video messages and image files, and text chat.  To make it even easier to chat with gay guys in their area, users have the option of viewing the entire community or using search filters to find only the guys that meet their criteria.
Press kit available at http://www.guyspy.com/press-kit/
About Stark Mobile Technologies
Stark Mobile Technologies develops and distributes web, mobile web, and mobile applications to international markets. Its flagship product, GuySpy, is a location-based mobile dating product that combines the intimacy of voice, video and photos with the immediacy of location. GuySpy is available for iPhone/iPad/iPod, Android, web, and mobile web.
Media Contacts:
Morris Chapdelaine
Executive Editor GuySpy
E: morris[at]guyspy[dot]com