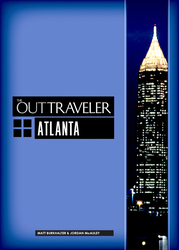 Gay Travel: Hot New Destinations, Events, Tours, and Cruises
Atlanta, GA (PRWEB) January 22, 2009
Matt Burkhalter and Jordan McAuley, local authors of the new book, 'The Out Traveler: Atlanta', (February 1st, Alyson Books) will speak about gay travel in Atlanta and beyond at the Atlanta Travel Expo this Saturday.
Burkhalter and McAuley will share their insider travel tips on a panel titled "Gay Travel: Hot New Destinations, Events, Tours, and Cruises" on Saturday, January 24th from 2:15 p.m. to 3:00 p.m.
Their talk will also focus on "staycations," or ways local Atlantans can take an inexpensive "vacation" near their home. Ed Salvato, Editor in Chief of OutTraveler.com and travel editor at PlanetOut will join Burkhalter and McAuley on the panel.
"We're honored that the Atlanta Travel Expo has asked us to speak -- especially on gay travel," says Jordan McAuley. "Historically, Cobb County (where the expo takes places) hasn't always been so friendly to gays and lesbians. This invitation shows things have changed."
Also speaking at the Atlanta Travel Expo are Patricia Schultz, author of '1001 Places to See Before You Die,' Leon Legothetis of Fox Reality's 'Amazing Adventures of a Nobody,' plus Pat Johnson and Regina Fraser of PBS' 'Grannies on Safari.'
The Atlanta Travel Expo is the only travel show in Atlanta where prospective travelers can meet directly with hundreds of destinations and vacation rental property representatives from around the world. It takes place January 23rd - 25th at the Cobb Galleria Centre in Atlanta.
In 'The Out Traveler: Atlanta,' Burkhalter and McAuley cover scandals such as "Olympics Out of Cobb," when gay and lesbian rights groups successfully boycotted the 1996 Summer Olympic Games because of Cobb County's former anti-gay resolution.
They also explore Atlanta's gay history, from the late 1800's to the present day, revealing how Atlanta's gay community has positively impacted the world.
Burkhalter and McAuley are available for interviews on request. Both will be available for interviews in person at The Out Traveler: Atlanta Party on Wednesday, February 18th at 8 p.m. at Outwrite Bookstore & Coffeehouse (991 Piedmont Avenue, Atlanta).
Although specific materials are available upon request, a complete online press kit is located at http://www.OutTravelerAtlanta.com.
###