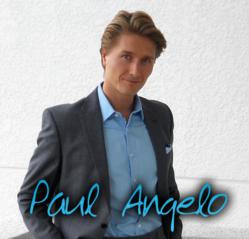 Miami, FL (PRWEB) August 28, 2012
PaulAngelo.com offers gay matchmaking and gay life coaching services for gay men over 40 in North America and Europe. Angelo today announced to be a member of the Miami, Chicago and New York's Gay Chamber Of Commerce. This membership doubles access to gay professionals in the three biggest gay metropolitan areas in the U.S. With a database of over 20,000 gay professionals, PaulAngelo.com has cemented the matchmaking service as of the most professional and reliable gay matchmaking and gay coaching services for gay men over 40.
Many gay men today are hungry for new ways to meet lovers and partners in a professional environment. A well-thought out gay matchmaking campaign allows them to meet gay professionals who are ready to settle down and who have gone through gay life coaching. Gay life coaching eliminates self-imposed frustrations and limited thinking patterns that often make it difficult to build a long-term, committed and authentic relationship.
According to Angelo, "Our mission is to be the 'Royce Rolls' for gay matchmaking." Regarding Angelo's commitment to providing the best gay matchmaking service, he adds, "We understand the importance of a healthy mindset in gay relationships. Thus we want to be there every step of the way to make sure that clients first get gay life coaching and then get matched with our members. Their emotional stability is the foundation for success in gay relationships and it is our priority to provide gay coaching and matchmaking all in one. This is what we found works best."
Angelo's emphasis on coaching and matchmaking ensures that clients get a long-term solution instead of a quick fix as offered by all others gay matchmaking services. By becoming a member of the gay matchmaking club, members can participate in gay travels and local gay dinners. For gay men who are health-conscious, Angelo also offers courses in healthy nutrition and weight loss.
For more information about gay life coaching and gay matchmaking for men over 40 visit http://www.PaulAngelo.com.
About PaulAngelo.com:
Angelo combines the knowledge of psychology, persuasion and communication to help gay men over 40 leverage relationships to transform their lives. Since starting in 2009, Angelo has taken on multiple clients that had previously seen no hope for a relationship and within 6 months found a partner and moved in together.
If you'd like more information about this topic, or to schedule an interview with Paul Angelo please visit Paul's website at http://www.PaulAngelo.com.