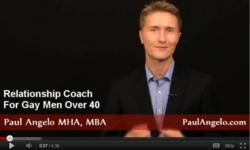 Most gay coaches rarely practice what they preach. This is why people rarely make progress.
Miami, FL (PRWEB) August 31, 2012
Brand new, Internet based gay coaching forum offers a new way for gay men over 40 to seek coaching and advice about money, relationships and health.
Paul Angelo, who is a gay matchmaker located in Miami, developed the forum to help all gay men discover simple strategies that can increase income, cause weight loss and create a brand new loving and committed relationship.
To access the forum, you can click on http://www.PaulAngelo.com/forum/
According to Angelo, every gay coach has a different methodology for helping his clients. That methodology is often based on what the coach has learned and not on what produces tangible results.
"It makes me angry when I talk to other coaches and learn about their coaching strategies. Many coaches just recently became coaches because of interest in psychology or having taken a coaching certification. But that is not enough to make a difference for a client. Practicing what one preaches allows a person to see the small details that end up being the difference between failure and success. Most coaches rarely practice what they preach. This is why people rarely make progress - because they get advice that is theoretical." says Angelo.
Angelo developed the gay coaching forum to substitute his individual coaching and to facilitate gay group coaching. A gay man over 40 who is interested in getting started in gay coaching by who does not want to spend any money, can visit Angelo's gay coaching forum at the link below:
http://www.PaulAngelo.com/forum/
About PaulAngelo.com:
Angelo combines the knowledge of psychology, persuasion and communication to help gay men over 40 leverage relationships to transform their lives. Since starting in 2009, Angelo has taken on multiple clients that had previously seen no hope for a relationship and within 6 months found a partner and moved in together.
If you'd like more information about this topic, or to schedule an interview with Paul Angelo please visit Paul's website at http://www.PaulAngelo.com.