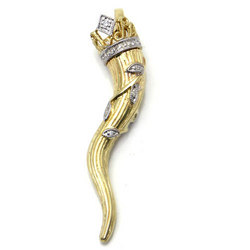 Today men and women have a multitude of choices in the style of jewelry they can wear.
Los Angeles, CA (PRWEB) January 9, 2009
Many of the modern Italian jewelry designs have their origin in ancient folk lore and are worn in honor of traditions that are centuries old. The Italian Horn is a good example of how mythological legends and human desires combined to produce a beautiful result. With the 14K Gold Italian Horn Crown Pendant, Blue Fuss, the innovative jeweler located in Los Angeles, CA is bringing a fresh interpretation to this jewelry design to reflect the lifestyle today.
Beautiful jewelry has a long history of being used as a lifestyle symbols in Italy. As one of the jewelry capitals of the world, Italy stands apart for its high standard of craftsmanship and superior materials. The Italian word "corno" translates to "horn" and although there are many charms for good luck, the Italian Horn is distinctive for it has been worn by men for protection of their virility.
Traditionally, this jewelry design was usually carved from red coral or made in gold. It had a graceful elongated design, and was often topped with a rounded crown. Blue Fuss updates this elegant jewelry style in the 14K Gold Italian Horn Crown Pendant with a mini-pave setting of diamonds and exquisite detailing. Made with high polish 14k gold, the body of the pendant is decorated with a free-style leaf motif. The golden filigree crown features a unique frontal plate design showcasing brilliant pave diamonds, accented by a matching circular band of diamonds at the crown's base.
"Today men and women have a multitude of choices in the style of jewelry they can wear." Francis Meyer of Blue Fuss said. "We wanted to bring a unique, modern look to this traditional jewelry design that would add elegance to their fashion statement. Jewelry is a personal expression and the 14K Gold Italian Horn Crown Pendant reflects their freedom of choice and enhances their lifestyle at the same time."
The exceptional design of the 14K Gold Italian Horn Crown Pendant is indeed one-of-a-kind. For those who love his freedom and celebrate living life to the fullest, this jewelry design is an elegant symbol that will be proudly worn. As a gift choice it's sure to please the soul of the adventurous, worldly individual with discerning taste.
Blue Fuss has quickly gained recognition for its outstanding array of original designs of gay and lesbian jewelry. The brilliant 14K Gold Italian Horn Crown Pendant featured in the online display is one example from the collection of symbolic lifestyle jewelry in designs that reflect today's trends. In addition to a quality selection of pendants, there are finely crafted bracelets, earrings and pride wedding band rings in white, yellow and rose gold, many decorated with diamonds and gemstones.
###