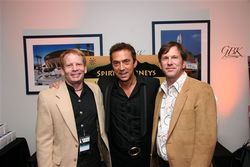 Spirit Journeys sounds like a wonderful idea for our community.
New Milford (Vocus) April 29, 2009
Several celebrities at the GLAAD Media Awards in Los Angeles endorsed the work that Spirit Journeys does as a spiritually based gay travel organization. After working very hard to bring Spirit Journeys to the attention of the LGBT community, the acknowledgments and endorsements were gratefully received by Spirit Journeys owner Howie Holben.
As each celebrity was brought to meet Howie Holben and his partner Chris Caramelli, the purpose of Spirit Journeys was briefly explained to the celebrity. Most visitors were quite amazed that such a service even existed for the LGBT community.
Bishop Gene Robinson, the first openly gay Bishop in the history of the Episcopal Church, said "Spirit Journeys sounds like a wonderful idea for our community."
Cheyenne Jackson, who recently starred in Broadway's Xanadu and is appearing in Fox's upcoming series Glee, was quoted as saying, "I love to travel. Maybe I can join you guys sometime."
Bruno Tonioli of ABC's Dancing with the Stars, asked "You guys go to Thailand?! I love Thailand!"
Rex Lee, who plays Lloyd, Ari Gold's gay assistant on HBO's Entourage said "Spiritual Journeys...What a wonderful idea!"
Nichelle Nichols, best known for playing Lt. Uhura on Star Trek, said "What wonderful work this must be!"
Alec Mapa, actor, comic and plays Suzuki St. Pierre on ABC's Ugly Betty and hosted Logo's Transamerican Love Story, said to Howie, "My husband and I are definitely coming to Peru and Machu Picchu with you guys!"
Peter Paige who is known for his work on Queer As Folk and as a star of Logo's Rick & Steve, said "Wow, this sounds special."
Marc Cherry, creator of Desperate Housewives was heard to say, "This would be a great way to see the world."
Randolph Duke, a fashion designer & Founder of Randolph Duke Collection. He told Howie Holben "This sounds like a great way to travel."
For photos and additional quotes, download the attached GLAAD Media Awards Photos file. Individual photos can also be downloaded and used with permission from Spirit Journeys GLAAD Photos.
Howie Holben and Chris Caramelli want to thank everyone that stopped by and spent a little time learning about Spirit Journeys. For additional information on Spirit Journeys' unique gay vacations, contact Howie Holben or visit http://www.spiritjourneys.com.
About Spirit Journeys:
Spirit Journeys provides conscious gay travel, vacations, retreats and workshops with a spiritual focus. Call (800) 754-1875 to learn more about Spirit Journeys.
# # #