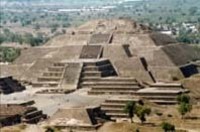 a place to merge with God.
New Milford, NJ (PRWEB) March 2, 2009
Spirit Journeys is issuing the last call for the Teotihuacan Toltec journey. This is a gay travel adventure that explores the great pyramids of Teotihuacan and the Toltec teachings of the past. What takes the breath away about this place is that it reflects back to all visitors, the possibility that exists within every human being; the possibility of experiencing individually and in others, the highest expression of divinity. This is the promise of Teotihuacan, spoken of by the ancient mystics of every tradition: it is "a place to merge with God."
This journey is guided by Hunter Flournoy, a teacher in the Toltec Eagle Knight lineage of Don Miguel Ruiz and Dona Barbara Emrys. Participants will explore the Toltec wisdom teachings and harness them to release everything that stands between them and this profound experience. The release of self-limiting judgments and fears, recovery of integrity and innocence once lost, restoration of faith in life and learning to love themselves are aims of this journey. Participants will follow the ancient initiatory path through the temple complex, inspired by the masterful artistry of the pyramids, temples, frescos and plazas.
Each day of the journey in Teotihuacan also includes opportunities for building lasting friendships, journaling and deep personal reflection, celebration, shopping, sightseeing, and pampering. From the airport, a private, air-conditioned van takes attendees to the hotel, the beautiful Hotel Villa Arqueologica. Each morning after breakfast, the group will walk to the nearby entrance of Teotihuacan and spend several hours exploring the site, sharing sacred ceremony, and returning to the hotel in time for lunch. The afternoons are free for individual exploration of the grounds, shopping, or a dip in the pool. The group gathers again in the evenings for teaching and sharing.
The Hotel Villa Arqueologica of Teotihuacan, is the only hotel located in the archaeological zone and only five minutes walking distance from the main entrance of the site. The Villa, a hacienda style construction recently completely renovated, is surrounded by lovely gardens that invite meditation and serenity. It's an intimate and comfortable hotel that offers a peaceful and tranquil pool, and is the ideal basis for exploring and bringing back to life the treasures of the ancient Teotihuacan civilization.
For additional information on this and other special gay vacations, contact Howie Holben or visit http://www.spiritjourneys.com.
About Spirit Journeys:
Spirit Journeys offers gay travel, gay vacations and gay retreats with a spiritual focus, and unique gay retreat and gay vacation options. Call (800) 754-1875 to learn more about Spirit Journeys.
###