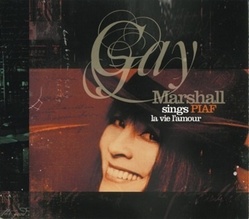 Piaf was so much more than 'the poor thing,'" Gay Marshall told NPR's Scott Simon recently,"she's much more magic than tragic.
New York, New York (PRWEB) February 10, 2010
By popular demand, Gay Marshall - a BILLBOARD Top World Music Artist and Time Out New York Top 10 artist - will reprise her concert series - PIAF: Queen of Heart - at New York's Metropolitan Room this winter. The show schedule is Thursdays, February 18th and 25th, March 4th, 11th and 18th at 7:30 PM .
Marshall's previous engagement of PIAF: Queen of Heart had audiences on their feet every night, and landed her on Time Out's 2009 "10 Best" list. "It takes a brave singer to take on the Edith Piaf songbook," wrote Time Out New York, "it takes a special one to pull it off so heart-piercingly."
The concert series is based on Marshall's CD, "Gay Marshall Sings Piaf, La Vie l'Amour," which listed on BILLBOARD'S Top World Album Chart in January 2010 as a #12 Hot Shot Debut. In a February 4th review of the CD, EDGE wrote "...deserves a prime spot in any music lover's library." To read the entire review, click here.
PIAF: Queen of Heart is Marshall's vivacious and original take on Piaf - far from the traditional perception of Piaf as a tragic icon. Instead, Marshall presents a versatile powerhouse of heartwarming and heartbreaking emotion, full of personality and humor. "Piaf was so much more than 'the poor thing,'" Marshall told NPR's Scott Simon in an interview which aired on Dec. 5th, "she's much more magic than tragic." Marshall delivers the dramatic repertoire – including her own English adaptations - with authenticity and not a hint of imitation. Her song selection is an unusual mix of the well known ("L'Accordeoniste," "Padam Padam") and the rare ("Avec Ce Soleil," "The Lady From Pigalle"), accompanied live by a five piece ensemble led by Eric Svejcar. The original arrangements by Marshall and Paul Bevan are a modern take on a classical theme. BistroAwards.com praised the way Marshall "fiercely inhabits every song." Cabaret Scenes described her as "mesmerizing," and wrote "Gay Marshall amazes at every turn as she embodies the passion, spirit, joy, humor and tragedy of Piaf."
Marshall, who played Diana Morales in A Chorus Line on Broadway and created Grizabella in the French production of Cats, has lived and worked mainly in Europe since she fell in love with French photographer, Jean-Louis Blondeau (Man On Wire). She re-captured the attention of New York audiences with her performance in the Zipper Theater's revival of Jacques Brel Is Alive And Well And Living In Paris. Charles Isherwood wrote of Marshall in the New York Times, "To hear her sing Brel's despairing 'Ne Me Quitte Pas,' ….is to experience Brel's art in its purest and most persuasive form."
The Metropolitan Room is located at 34 W.22nd St. Gay Marshall performs PIAF: Queen of Heart on Thursdays, February 18th and 25th, March 4th and 11th and 18th at 7:30pm. There is a $25 music charge and two drink minimum. Call 212.206.0440 for reservations or visit: metropolitanroom.com. No dinner service, snacks and drinks only.
Press: SavoyCommunications
###