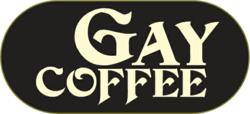 "More than just making great coffee and fun merch, we hope to cultivate new conversations about queer culture and history that have begun over cups of Gay Coffee across the U.S. and the world." Melissa Krueger, Gay Coffee
Williamsburg, Mass (PRWEB) February 03, 2012
After debuting in October at the Castro Street Fair, and creating a line of kitschy and delicious gifts for the holiday season, Gay Coffee is adding new Valentine's Day offerings featuring our hand-roasted, fair trade Gay Coffee bags and tins paired with exquisite, fair trade chocolates. Celebrate queer culture this Valentine's Day with the unique gift of our quality coffee paired with fabulous chocolate
WHO: Gay Coffee, a gay-owned and -operated company founded in 2011 by independent coffee roaster http://www.gaycoffee.com/about-us.
WHAT: Best-selling gift tins are back in stock! Adds high-quality chocolates in a new line of Valentine's Day gifts; new coffee subscription options for home, office and organizations offer a way to purchase Gay Coffee Refills at a great discount. All are available for purchase at http://www.gaycoffee.com.
According to Gay Coffee founder Melissa Krueger, "As Gay Coffee grows from a local roastery into a national presence, I continue to be amazed by and humbled by the many hundreds of emails and messages we receive from people connecting with our brand, coffee, and our philosophy of camp and culture. More than just making great coffee and fun merch, we hope to cultivate new conversations about queer culture and history that have begun over cups of Gay Coffee across the U.S. and the world. We look forward to continuing the conversation on our new blog, and invite our new customers, fans and friends to chime in. We want to know - what do you want Gay Coffee to be?"
New products for sale:

Best-Selling Gay Coffee Tins: Our full line of roasts in brushed metal tins, available for individual purchase or in gift sets, are back in stock! Looks great next to all your stainless appliances - or your 1970s avocado fridge (hey - those things were built to last, right?). Paired with our new discounted refill options, you can fill you tins and enjoy your favorite Gay Coffee every day!
Gay Coffee Refills: Three options to purchase or subscribe to Gay Coffee Refills, a great way to refill your holiday tins or enjoy our coffees all the time at a tasty discount. Our refill options are attractively priced with free shipping, with options for individuals, families or organizations.
Valentine's Day Gifts: Bags and tins of Gay Coffee paired with high-quality fair trade chocolates from Divine Chocolate Company and Madecasse Chocolate. Gift options include:
Third Date Gift Set: Nope, not the coffee we call Second Date; the Third Date is when it's time to get a little fancy, right? A cute, romantic little gift that's just the right size. The Gay Coffee bag of your choice and choose either four Divine Chocolate bars or two Madecasse Sea Salt and Nibs bars for some Valentine's Day nibbling.
Lovebird: Perfect for a couple of Valentine's Day lovebirds. A bag of your favorite Gay Coffee, a beautiful, refillable, large Gay Coffee tin, bundled with your choice of tasty, fair trade chocolate.
Chocolate Love Bundle: Add a l'il bundle of decadent assorted chocolates to any other Gay Coffee purchase to custom-design your own V-Day gift! Our Good Morning Mary! and Stone Butch Breakfast Blend are especially delicious paired with milk or dark chocolate.
All Gay Coffees roasts are fairly traded and organically sourced, respecting our coffee growing partners and our planet's health, with one percent of all profits donated to the National Gay Lesbian Task Force.
WHEN: Available today while quantities last.
WHERE: http://www.gaycoffee.com
To download high-resolution images of our Valentine's Day gift items and products, please visit http://www.gaycoffee.com/press.
MEDIA CONTACT
For more information about Gay Coffee please contact Melissa Krueger melissa(at)gaycoffee(dot)com.
###