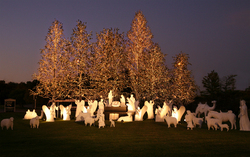 The Most Christmassy Hotel in the Nation.
Nashville, TN (Vocus) November 21, 2008
The outdoor Nativity display on the iconic Magnolia Lawn of the Gaylord Opryland Resort for this year's 25th Anniversary of A Country Christmas is surrounded by two million sparkling lights. Nowhere does the meaning of Christmas shine more brightly than at the resort a Travel Channel program calls "The Most Christmassy Hotel in the Nation." The outdoor Nativity is comprised of 50 white statues, some of which are eight-feet tall, that depict the story of the legendary trip to Bethlehem made by Jesus, Mary and Joseph. The tale is narrated for all those who stroll along the nearby path. But that is only one of The Four Greatest Nativities at Gaylord Opryland Resort and Convention Center in Nashville, Tenn.
A second glistening Nativity is located in ICE!, which in 2008 is a theater full of 2 million pounds of giant ice sculptures telling the story of the How the Grinch Stole Christmas! by Dr. Suess. The main theme may change from year to year, but each year thousands return to ICE! just to see the grand finale, a 9æF room where a larger-than-life Nativity scene is carefully displayed with special theatrical lighting, all hand-carved from massive blocks of sparkling clear ice. Here, guests stop for longer than the temperature would seem to allow, listening to the story of Christmas as the sculptures are lighted one by one, including a 15-foot tall ice angel.
The third and equally spectacular Nativity is located in Gaylord Opryland's breathtaking Delta Atrium gardens. These characters are 15-feet tall and look like stained-glass, but are actually cloth-like puppets. They are lit from within and provide a colorful glow that can be seen from all around the 4.5 acre gardens, with the Brightest Star Fountain Show shooting 80-feet into the air behind them.
And the fourth display may be the grandest of them all. It is actually the world-famous Living Nativity, as performed by the Radio City Rockettes and cast in the last scene of the Radio City Christmas Spectacular at Gaylord Opryland for the 7th year in Nashville. With majestic costumes, real camels, sheep and donkeys, and the story of the birth of Christ told in a way many say they will always remember, The Living Nativity performed at the Grand Ole Opry House is a dramatic way to mark this great holiday.
See them all as part of the 25th Anniversary of the world-famous A Country Christmas.
For more information on A Country Christmas, or for tickets to ICE! or the Radio City Christmas Spectacular at Gaylord Opryland Resort, please visit http://www.ChristmasatGaylordOpryland.com or call 1-888-999-OPRY.
###