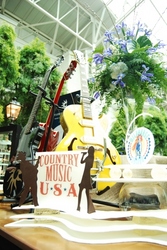 The Wildhorse Saloon house band is one of the best gigs in the nation in country music
Nashville, TN (Vocus) March 12, 2009
Nashville, Tenn. --- Be at the heart of everything country with Nashville's newest country music entertainment and the nation's most authentic ] country music vacations, announced today by http://www.gaylordhotels.com/gaylord-opryland/?source=http://www.gaylordopryland.com [Gaylord Opryland Resort and Gaylord's famous attractions. Now you can check into the resort and check out a Gibson guitar and rock out and play the latest country sounds; re-live the best of Patsy Cline at the Ryman Auditorium; or see the coolest new shows and entertainment through one of the resort's new country vacation packages available at a significant savings. In all, seven new country entertainment experiences were announced today including:
Gibson's Check-In, Rock Out™!
Country Music USA on the General Jackson Showboat
Tim Watson's Fiddlin' Around on The General Jackson Showboat
Opry Country Classics
Always… Patsy Cline
Wildhorse Saloon's Revved-up Country Experience
All-American Country Getaway at Gaylord Opryland Resort
Gibson's Check-In, Rock Out™! debuts in April at Gaylord Opryland Resort & Convention Center, allowing guests inspired by the sounds of Music City to create their own music in their rooms. Gaylord Opryland will be the first to offer Gibson Guitars' new program which allows guests to try their talents by selecting from a variety of cool guitars to lease for a day. The guest will also get a Pocket Pod, which is a hand-held portable amplifier with headphones, allowing them to "rock out" in their rooms without disturbing other guests. Gaylord Opryland will be the only hotel in Nashville where Gibson's Check-In, Rock Out! will be available. There will be a wide variety of amazing Gibson and Ephiphone guitars from which to choose including:

Gibson Angus Young Signature SG
Gibson Les Paul Standard Goldtop
Gibson ES-137 Classic Blues Burst
Epiphone DJ-160E-VC John Lennon
Epiphone EJ-200
Country Music USA on The General Jackson Showboat begins March 12, bringing back Opryland Themepark's most popular musical revue. Country Music USA is a nostalgic journey through the very music that gave a voice to America. With the songs and choreography taken directly from the beloved theme park show, Country Music USA features some of the most energetic and talented performers showcasing songs made popular by country legends. Among the performers in this cast is Paul Vann, who performed in the original production at Opryland Themepark. A brand-new dinner menu accompanies the show onboard the General Jackson, featuring prime rib of beef and chocolate truffle cake. The show runs through November 15, 2009.
Tim Watson's Fiddlin' Around begins March 13 and is the new midday cruise production featured on The General Jackson Showboat. This high-energy country music and comedy show features Tim Watson, who was also a performer at Opryland Themepark, who is famous for his fantastic fiddle playing, down-home humor and winning personality. Audiences of all ages will love this show and the Southern lunch served family-style in bottomless bowls. Included on the menu are items such as creamy country potato salad, Southern cornbread stuffed chicken and slow-roasted country pit ham, green bean casserole, corn bread muffins and buttermilk biscuits. Tim Watson's Fiddlin' Around runs March 13 through November 15, 2009.
Opry Country Classics
kicks-off March 26, showcasing the very songs fans remember most and love best. Every Thursday, Opry Country Classics at the world-famous Grand Ole Opry House will be hosted by award-winning artists such as Larry Gatlin, Marty Stuart and John Conlee. The stage will come alive with classic country music and memories through exciting live performances, colorful storytelling and film clips of country's all-time legends. Thursdays, March 26 - June 18 and September 10 - October 29, 2009.
Always… Patsy Cline returns to the Ryman Auditorium in April. The popular bio-musical is held on the stage where the country music legend first rose to fame. The musical opens April 15 and is slated for a six-week engagement at the historic theater. Vocal powerhouse Mandy Barnett will reprise her critically acclaimed turn as Patsy, and theater veteran Tere Myers returns in the role of Patsy's devoted fan, Louise Seger. Cline and Seger met in 1961 before a show Cline was giving in Houston, Texas, and the play is based on the true story of the friendship that developed between them. The two women corresponded until Patsy's death at age 30 in an airplane crash in 1963, and the show takes its name from Patsy's signature on her letters to Louise. She signed each one the same way: "Always…Patsy Cline." The production features more than 20 of Cline's most memorable songs including "I Fall to Pieces," "Crazy," "Blue Moon of Kentucky" and "Sweet Dreams," which became a hit shortly after her death. April 15 - 29 and May 6 - 23, 2009.
World-famous Wildhorse Saloon's Revved-Up Country Attitude
New General Manager
World-Famous Wildhorse House Band Search Contest
New professional line-dance instructors/performers
Updated Southern Smokehouse Cuisine catering menus
Experienced club manager Ron Kerere takes the helm at the World-famous Wildhorse Saloon today, after being promoted from Gaylord Opryland's Fuse Nightclub. Prior to joining Gaylord Hotels, Kerere invested time as general manager of the Key Club at Morongo Casino Resort and Spa as well as general manager of Silk Nightclub. He has worked as the assistant director of food and beverage at Morongo Resort, as beverage manager at Pechanga Resort & Casino and as assistant beverage manager at Sunset Station Hotel & Casino. Kerere is a graduate of Radford University and holds a degree in finance, which he has used to manage multi-million dollar clubs.
Kerere announced the World-Famous Wildhorse House Band Search Contest; a nationwide competition for a new house band that will be held late spring. "The Wildhorse Saloon house band is one of the best gigs in the nation in country music," said Ron Kerere, new general manager, Wildhorse Saloon. "Not only for the opportunity to open for national acts and play in front of a live crowd every night, but the Wildhorse band gets prime exposure, right here in Music City. Any band interested in catapulting their career should definitely consider joining this nation-wide search." Since opening in 1994, the Gaylord Entertainment-owned Wildhorse Saloon has had several house bands that have become major recording groups including Lonestar, Ricochet and Trick Pony.
The World-Famous Wildhorse House Band Search Contest kicks off with the first of several live auditions happening at the Wildhorse Saloon, located on historic Second Avenue in downtown Nashville, at 7:30 p.m., Wed., April 22, 2009. Subsequent live auditions will happen in May with the finalist competition happening in early June. The judges will be looking for bands that can play a large repertoire of country and rock cover songs. Interested bands should send an electronic press kit to Kara Ryan at kryan@gaylordhotels.com. (Contest and details subject to change, please check http://www.wildhorsesaloon.com for updated information).
Each year up to 1.5 million people visit the Wildhorse, many to enjoy the well-known line dance lessons on one of the nation's largest dance floors. This spring, those lessons will be revved-up with the addition of three new professional instructor/dancers that will be as much fun to learn from as they will be to watch.
Also this spring, award-winning local celebrity chef Laurie Potts offers her updated "Southern Smokehouse Cuisine" catering menus from the Wildhorse, featuring her distinguished and inventive recipes such as hickory-smoked back ribs with a tangy barbecue sauce, made with molasses, Jack Daniels and brown or spiked cornbread muffins, good enough to make traditional "Johnny-cakes" run for cover.
Gaylord Opryland's All American Country Getaway Packages
provide the chance to enjoy the nation's most authentic country music experiences at a discount. Beginning March 12, 2009 two-, three- and four-night vacation packages are available by phone at 1-888-999-6779 or by booking on-line at http://www.gaylordopryland.com. Example: four-night All American Country Getaway* -Best deal with savings of more than 40%

Room for four nights
Ticket to Always …Patsy Cline
Preferred seat ticket to the Grand Ole Opry
Country Music USA dinner cruise on General Jackson
Preferred seat ticket to Opry Country Classics
One breakfast pass to Water's Edge Marketplace Buffet
Admission and transportation to Country Music Hall of Fame and Ryman Auditorium Museum
Delta Riverboat ride inside Gaylord Opryland Resort
*$425 per person based on double-occupancy plus tax/resort fee. Restrictions apply.
For information on any of these new country music experiences or to purchase tickets, call 1-888-999-OPRY (6770) or go to http://www.gaylordoprland.com.
Media relations contacts:
Kim Keelor
615-305-8395
Ann Dee McClane-Bunn
615-458-2896
###