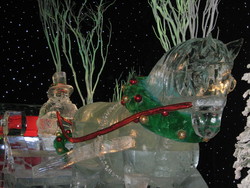 Grapevine, Texas (Vocus) November 4, 2008
Beginning November 14th, 2008 through January 3rd, 2009, Gaylord Texan Resort's annual ICE! exhibit returns this holiday season with a variety of new hand-carved and life-size holiday sculptures and scenes to delight those of all ages.
Visitors of the spectacular 14,000-square-foot exhibit will feel as though they have been transported straight to the North Pole as they bundle up in parkas and revel in two million pounds of ice masterpieces kept at a wintry nine degrees.
This year, ICE! will showcase several "never before seen" additions including old man winter blowing snow, dazzling colored ornaments, a winter forest with an ice skating pond, a life-size Santa's lap, a candy land full of tempting treats, and an entertaining animal band. Returning favorites will include the thrilling ice slides, 25-foot angel, icicle canopy, and breathtaking Nativity.
To create ICE!, Gaylord Texan imports 5,000 blocks of clear, frosted, and colored ice. They also host 40 visiting master artisans from Harbin, China who spend 30 days carving inside of the ice tent.
Gaylord Texan's ICE! exhibit is presented by Coca-Cola and sponsored by Nissan, Reliant Energy, and Sylvania.
ICE! Schedule:
10:00am - 9:00pm on Sunday - Thursday
10:00am - 10:00pm on Friday and Saturday
ICE! Pricing:

Adults: $20 on Monday - Thursday and $23 on Friday - Sunday
Children ages 4 - 12: $10 on Monday - Thursday and $12 on Friday - Sunday
Children ages 3 and under: Complimentary
Seniors ages 55 and up: $18 on Monday - Thursday and $20 on Friday-Sunday
*Complimentary and validated self-parking is included in the ticket price. Those who purchase tickets online at http://www.gaylordtexan.com will be excluded from the $3 per order box office service fee.
Buy 3 Tickets, Get 1 Free
Gaylord Texan is inviting families to celebrate the holidays early and save! From November 14th through December 5th, those who purchase three tickets to ICE! will get one ticket FREE.
Lone Star Christmas at Gaylord Texan
Gaylord Texan's ICE! exhibit is just one of the many activities offered during its annual Lone Star Christmas event. Resort visitors are also invited to enjoy 1.2 million lights and 20 7-foot ornaments strung from the top of its glass roof; a 50-foot rotating Christmas tree; magical train sets winding through 1,000 feet of track; a life-size gingerbread house made from 5,000-square-feet of gingerbread; Santa's workshop including a cookie conveyor belt and control station; and dozens of lavish holiday displays including 2,300 feet of garland, 5,600 wreaths, and 10,000 ornaments. A variety of amusing holiday entertainers will also be present and include Santa Claus and Mrs. Claus, live reindeer, a balloon artist, toy soldier stilt walkers, Jack Frost, a gift-carrying elf, and more.
Lone Star Christmas Opening Ceremony
On Friday, November 14th, 2008, the resort will kick-off Christmas with an impressive Lone Star Christmas Lighting Ceremony sponsored by Reliant Energy. When the Texas sun sets and its winter skies go dark, Gaylord Texan's 1.2 million twinkling lights will turn on! After the exciting ceremony, guests are invited to stroll through the resort atriums to enjoy the extraordinary holiday decorations and entertainment. The event is complimentary to the public and those who spend $25 or more in a resort restaurant or retail shop will receive validated self-parking.
Lone Star Christmas Room Package
There is so much to see and do this Christmas, Gaylord invites you to stay and experience it all with special holiday offerings! Available November 14, 2008, through January 3, 2009, the Lone Star Christmas Room Package offers overnight luxury room accommodations for two adults and two children; breakfast in the resort's Riverwalk Café for two adults and two children; complimentary use of the Relache Spa fitness center for adults; complimentary self parking; resort fees and taxes. Pricing begins at $199 per room, per night and is subject to change and availability.
For more information on Lone Star Christmas at Gaylord Texan or to make reservations, please visit http://www.gaylordtexan.com or call (817) 778-1000.
About Gaylord Texan Resort & Convention Center
Already the premier convention destination of the American Southwest, Gaylord Texan Resort & Convention Center on Lake Grapevine offers world-class facilities, more than 400,000 square feet of convention space and four-and-a-half acres of Texas vistas under signature atriums. Ideally situated on the shores of beautiful Lake Grapevine, Gaylord Texan is only six minutes from Dallas-Fort Worth International Airport. Gaylord Texan is a Gaylord Hotels-branded property owned by Gaylord Entertainment (NYSE: GET), a Nashville-based hospitality and entertainment company that also owns and operates the Grand Ole Opry. For more information, visit http://www.gaylordhotels.com.
Media Note: Photos of the ICE! exhibit and Lone Star Christmas events are available by request.
Media Contact: Martha Neibling, Director of Public Relations 817-778-1145 or mneibling @ gaylordhotels.com
###