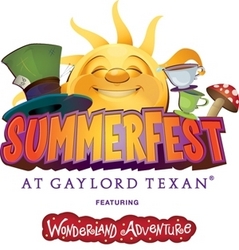 Grapevine, Texas (Vocus) May 29, 2010
In celebration of its sixth annual SummerFest event, taking place May 28th – September 6th, 2010, Gaylord Texan's impressive four-and-a-half acres of indoor gardens will transform into a magical kaleidoscope of captivating colors and characters for Alice's Wonderland Adventure.
As visitors wander into Wonderland, they will be lured into Carroll's original storybook masterpieces as they encounter giant pieces of art highlighting scenes from the mesmerizing Wonderland he created. The unique artwork, created by a group of individual artists in a variety of media, includes The Hatter's Mad Tea Party in sand, The Cheshire Cat in flowers, a 256-sq-ft chess set in teak wood, The Gryphon in balloons, The Snap-Dragon Flies in mixed metals, The Flamingo and The White Rabbit in topiaries, The Caterpillar in high density EPS foam, The Rise of the Jabberwock in kinetic wind sculptures, and Humpty Dumpty in Ostrich egg.
Adding to the magic inside, visitors will be delighted to find strolling entertainers including Alice herself, as well as The Queen of Hearts, The Hatter, The Cheshire Cat, The Caterpillar, and The White Rabbit. The resort will also host a flower stilt-walker, a balloon artist, and card soldiers.
SummerFest Wonderland Adventure will offer a variety of Lewis Carroll-inspired activities for both children and adults including a "Journey Down the Rabbit Hole" 3D Black Light Maze, "Alice Through the Atrium Glass" art exhibit, "DRINK ME" progressive cocktail sampling, Breakfast with Alice and Friends and Friday Night Fireworks & Parade of Magic Hats, just to name a few.
Tickets for the SummerFest Wonderland Adventure events may be purchased on-site at the SummerFest Wonderland Adventure Ticket Desk on-site, by calling 817-722-9423, or by visiting http://www.gaylordtexan.com. As always, local guests visiting Gaylord Texan receive complimentary validated parking when they spend $25 or more in the resort's restaurants, retail shops, or spa.
For those who wish to enjoy a memorable getaway experience, Gaylord Texan is offering special overnight packages beginning at $189. For more information, please visit http://www.gaylordhotels.com or call 817.722.9423.
About Gaylord Texan Resort & Convention Center
Ideally situated on the shores of beautiful Lake Grapevine, Gaylord Texan is only six minutes from Dallas-Fort Worth International Airport. Gaylord Texan is a Gaylord Hotels-branded property owned by Gaylord Entertainment (NYSE: GET), a Nashville-based hospitality and entertainment company that also owns and operates the Grand Ole Opry. For more information, visit http://www.gaylordhotels.com.
Media Contact: Martha Neibling, Director of Public Relations, at 817-778-1145 or mneibling(at)gaylordhotels(dot)com
# # #