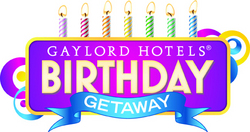 Nashville, Tenn. (PRWEB) May 19, 2010
Some say the best thing about birthdays is that they come once a year. Others say it's the presents. Or the cake. Or, of course, the party. But now, with Gaylord Hotels' new Birthday Getaway,* all the "best things" just got a little better: one FREE night with the purchase of one night's stay during a guest's birthday month.
"At Gaylord Hotels, we believe that life's special moments should be cherished and celebrated in memorable ways," said Rich Maradik, senior vice president and chief marketing officer of Gaylord Hotels. "Our hotels offer exceptional environments to commemorate occasions of all kinds, so we've introduced a series of value-added offerings aimed at supporting the creation of memories."
The Birthday Getaway is available at Gaylord Hotels properties, which are located in or near some of the country's most desirable destinations, including Gaylord National near Washington, D.C., Gaylord Palms near Orlando, Fla., Gaylord Opryland in Nashville, Tenn. and Gaylord Texan near Dallas. The Gaylord Opryland in Nashville, Tenn. is currently closed and under repair due to Nashville's recent flooding. Re-opening date TBD.
Gaylord Hotels' properties offer exciting, entertaining environments that enable guests to truly feel transported to whatever type of getaway they desire, from exotic and romantic to wholesome family fun, to indulgent, break-from-reality and cut-loose time with friends. Designed to offer "everything in one place," each resort features multiple casual and fine dining options, entertainment, world-class spas, recreational amenities, nightlife, shopping and more, right on property.
Several, award-winning restaurants at each hotel feature regional delicacies that use locally grown ingredients to ensure a unique dining experience every time, and lots of choices for that special birthday dinner. And a simple call ahead to the resort concierge offers a myriad of customized arrangements for the birthday guest, such as having their favorite flowers delivered to their room, a signature spa treatment appointment booked, and reservations for a world-class meal complete with birthday cake for dessert. Nightlife options such as high-energy nightclubs, live music and dinner theater are available to cap off the celebration, making for an unforgettable trip.
Gaylord Hotels' signature emphasis on exceptional settings and flawless guest service provide an experiential stay and memories that will surely outlive the visit. Elegantly appointed guest rooms overflow with thoughtful amenities, such as, luxurious bath products, cozy robes and towels plus lovely views. Indoor atriums offer acres of breathtaking foliage, flowing streams and walking paths.
*The Gaylord Hotels Birthday Getaway applies now through April 2011, providing one complimentary night during a minimum two-night stay on a space-available basis during the guest's birthday month. A valid form of ID with birth date, such as a driver's license or a passport, is required at check-in. For more details and booking information, visit http://www.gaylordhotels.com/birthday.
The Birthday Getaway is the latest in a growing collection of leisure packages designed to celebrate life's moments at Gaylord Hotels. With the Unforgettable Anniversary, Remember Romance or Family Affair packages, guests are encouraged to connect in a personal and emotional way while celebrating the special occasions that create memories that last forever.
About Gaylord Hotels®
Gaylord Hotels® is a collection of four upscale, resorts which afford endless opportunities for leisure travelers and conventioneers. The hotel company's hallmark -- "everything in one place" -- provides vacationers with diverse dining options, quality spa and fitness center services, top-notch entertainment, on-site shopping and endless activities -- all within each resort. Gaylord Hotels is a pioneer in the hotel and convention industry with properties in the nation's most desirable destinations. Gaylord Hotels include Gaylord Opryland® in Nashville, Tennessee (currently closed and under repair due to Nashville's severe flooding in May 2010); Gaylord Palms® in Kissimmee, Florida near Orlando; and Gaylord Texan® on Lake Grapevine near Dallas, Texas, and Gaylord National® on the Potomac in National Harbor, Maryland, which just celebrated its two-year anniversary in April 2010. Gaylord Hotels is owned and operated by Gaylord Entertainment (NYSE: GET), a leading hospitality and entertainment company based in Nashville, Tenn. For more information, please visit: http://www.gaylordhotels.com.
# # #