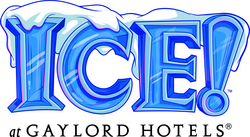 Nashville, TN (PRWEB) July 21, 2010
Gaylord Hotels is making its Christmas list, and checking it twice…in July! Despite record temperatures and heat waves throughout the country, Gaylord Hotels is already setting the stage for the country's most memorable holiday-inspired events including the "coolest" attraction, uniquely themed shows, live entertainment, and spectacular Christmas exhibits. Oversized decorations and millions of holiday lights, hundreds of miles long, are NOW being strung throughout all four Gaylord Hotels in National Harbor (Washington D.C. area), Nashville (re-opening November 15), Kissimmee (Orlando area) and Lake Grapevine (near Dallas).
Gaylord Hotels is preparing to reward those who have been "nice" with the most memorable of family getaways from mid November 2010 through early January 2011, with two new value packages – Christmas Memories and Grandparent Getaway– aimed at capturing the holiday spirit. And with on-property amenities featuring everything in one place -- full-service spas, indoor and outdoor pools, shopping, diverse restaurants, quality entertainment and much more -- each resort is destined to become a private winter wonderland beneath its own multi-acre glass atriums.
The Christmas Memories* package, available on select dates in November 2010-January 2011, includes room accommodations, tickets to ICE! and one complimentary ICE! family photo per room. The new Grandparent Getaway* – the vacation that skips a generation – allows grandparents to create lasting memories with their grandchildren this holiday season. Available on select Thursday-Saturday arrivals throughout November and December 2010, the Grandparent Getaway allows families to save up to 30 percent on two-night room accommodations and tickets to ICE!, while including a complimentary ICE! family photo and ticket to a special breakfast with a holiday character from ICE!. (http://www.gaylordhotels.com/christmas)
Cold as ICE!
For the first time, Gaylord Hotels, known for being the place to celebrate Christmas memories, is hosting four different themed versions of its signature, award-winning attraction ICE!. The attractions will transport guests to an enchanted indoor world of ice, hand-carved from nearly two million pounds of ice at each property. The resorts feature one-of-a-kind, whimsical wonderlands made up of colorful, larger-than-life, 3-D ice sculptures of beloved storybook characters, slippery ice slides, and memorable holiday scenes. Each year, more than 100 artisans from Harbin, China, a city known for its master ice carving skills, travel to the U.S. to create magnificent seasonal displays for Gaylord Hotels. To temper the chill and avoid a nose as red as Rudolph's, visitors are bundled in oversized parkas (on loan from the resorts) while touring the charming fantasy land, which is kept at a frosty nine degrees Fahrenheit.
This year's ICE! themes, which vary at each property, will feature loveable characters such as the Grinch, Santa Claus, Kris Kringle, grouchy Mayor Burgermeister Meisterburger, Charlie Brown, Snoopy and the rest of the Peanuts gang. The signature ICE! events for 2010/2011 are as follows:
Christmas on the Potomac at Gaylord National Resort: Nov. 18, 2010 – Jan. 9, 2011
He'll be there, but there's no chance the Grinch will steal Christmas at Gaylord National. Gaylord National Resort's ICE! will feature 10 colorful scenes straight from the pages of the Dr. Seuss classic story, How the Grinch Stole Christmas. For the third year in a row, Christmas on the Potomac will transform the entire hotel into a stunning holiday wonderland. To make every night feel like Christmas Eve, guests will enjoy a tree-lighting show, featuring a 60-foot glass Christmas tree, followed by a real-life snowfall that will take place along the atrium's Holiday Lane. They'll also have opportunities to enjoy indoor ice skating, "dive-in" holiday movies pool-side, special breakfasts with the Grinch, scavenger hunts, and arts and crafts with Mrs. Claus herself. (http://www.wefrozethegrinch.com)
A Country Christmas® at Gaylord Opryland Resort: Nov. 19, 2010 – Jan. 2, 2011
Celebrating its grand re-opening after Nashville floods forced the resort to close temporarily, Gaylord Opryland Resort will be non-stop excitement this holiday season. In its 27th year, Gaylord Opryland Resort's A Country Christmas will feature a brand new theme to its ICE! event – Santa Claus is Comin' to Town®—and will welcome other new events, as well as favorite traditions, to this year's line-up, including the 9th season of the Radio City Rockettes® Christmas Spectacular show, Cookies with Mrs. Claus, Louise Mandrell's 'The Gift' Christmas Dinner Show, and much more. In the tradition of Gaylord Opryland Resort, guests will enjoy Christmas shows aboard the General Jackson® Showboat or listen to a Rockabilly Christmas music show featuring the Christmas oldies of the 1950s. A Treasures for the Holidays craft show will be on–site, allowing guests to shop for hand-made novelty gifts. A Country Christmas will also offer Photos with Santa, holiday train rides for children, a gingerbread house decorating area, carriage rides and the Hall of Trees – a display of trees adorned with items available for purchase, such as autographed CDs, electronics, dinner vouchers, airline tickets and trips – all to benefit Middle Tennessee charities. (http://www.christmasatgaylordopryland.com)
Best of Florida Christmas at Gaylord Palms Resort: Nov. 20, 2010 – Jan. 2, 2011
"Twas the night before Christmas and all through the house…" Every day will be Christmas Eve at Gaylord Palms this holiday season, when the delightful story, 'Twas the Night Before Christmas, comes to life at ICE! This chilly attraction, in the traditionally warm sunshine state, is sure to create a winter holiday experience like no other in Florida. And while ICE! is the main attraction during the Best of Florida Christmas Celebration, visitors will also be dazzled daily at Luminescence, a high-energy, high-spirited modern musical journey into Christmas. Guests can also enjoy music from yesterday and today while listening to a capella-style Christmas carols in the resort's holiday-themed four and one half acre atrium. And, while visiting Gaylord Palms, families can enjoy a holiday brunch with Mrs. Claus at Villa de Flora, where surprise Santa visits are sure to delight children and adults of all ages. And it won't be hard to keep the little ones occupied with a Hidden Holiday Treasure Hunt across Gaylord Palms' 4.5 acre winter wonderland. (http://www.gaylordpalms.com/christmas)
Lone Star Christmas at Gaylord Texan Resort: Nov. 12, 2010 – Jan. 3, 2011
An exciting gang of special guests will be arriving at Gaylord Texan this holiday season, as they celebrate their sixth annual ICE! attraction with a brand new theme featuring A Charlie Brown Christmas, and all of the beloved Peanuts characters by Charles Schulz. The story will come alive in classic Charlie Brown story scenes like rehearsal hall practice, Snoopy's holiday-decorated house and Charlie Brown choosing the perfect Christmas tree. Outside of the frozen wonderland, guests will have an opportunity to enjoy breakfast with Charlie Brown and Snoopy. Texas-sized cowboy gingerbread cookies take the place of traditional houses in the Enchanted Gingerbread decorating program; and a 52-foot rotating Christmas tree will take center stage among 1.5 million lights and 12,000 ornaments in the holiday-decorated atrium. (http://www.wefrozecharliebrown.com)
© 2010 Madison Square Garden Entertainment, a division of Madison Square Garden, L.P.
Dr. Seuss Properties. TM & © 2010 Dr. Seuss Enterprises, L.P. All rights reserved.
"Santa Claus is Comin' to Town" © 1970, renewed 1998 Classic Media, LLC. Character names, images and other indicia are trademarks of and copyrighted by Classic Media, LLC. All rights reserved.
PEANUTS © 2010 Peanuts Worldwide, LLC.
*Pricing varies per hotel. Subject to availability and blackout dates. Please visit website for more details. Restrictions apply.
About Gaylord Hotels®
Gaylord Hotels® is a collection of four upscale resorts, which afford endless opportunities for leisure travelers and conventioneers. The hotel company's hallmark "everything in one place" provides vacationers with diverse dining options, quality spa and fitness center services, top-notch entertainment, on-site shopping and endless activities –all within each resort. Gaylord Hotels is a pioneer in the hotel and convention industry with properties in the nation's most desirable destinations. Gaylord Hotels include Gaylord Opryland® in Nashville, Tenn. (currently closed and under repair due to Nashville's severe flooding in May 2010); Gaylord Palms® in Kissimmee, Fla. near Orlando; and Gaylord Texan® on Lake Grapevine near Dallas, Texas, and Gaylord National® on the Potomac in National Harbor, Md., which just celebrated its two-year anniversary in April 2010. Gaylord Hotels is owned and operated by Gaylord Entertainment, a leading hospitality and entertainment company based in Nashville, Tenn. For more information, please visit: http://www.gaylordhotels.com.
###