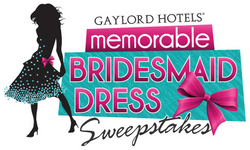 Nashville, Tenn. (PRWEB) May 20, 2010
Everyone has a skeleton in their closet. Some are more scandalous than others, but by far, the scariest live in the darkest corners of the boudoirs of millions of women worldwide: the bridesmaid dress. In its ongoing effort to celebrate the most momentous life occasions, Gaylord Hotels has launched a new promotion, the Gaylord Hotels' Memorable Bridesmaid Dress sweepstakes, which is designed to pay tribute to the sentimental honor known as being a bridesmaid.
From now through June 30, 2010, women are encouraged to visit http://www.memorablebridesmaiddress.com and post photos of their most memorable bridesmaid dress, and if the image alone doesn't tell the story, an accompanying tale about what made it so.
"Over the years, more and more couples have been choosing Gaylord Hotels as the place to celebrate their wedding memories, – old or new – especially now with our special Unforgettable Anniversary offer. So we get to hear a lot about those memories, and the best stories by far have to do with the wedding party," said Amy Atkinson, vice president of leisure marketing and PR for Gaylord Hotels. "Talk to any woman who's been a bridesmaid, and her first comment is always about the dress. Whether good or bad, wild or wacky, the common denominator in all the stories is the fact that it is an honor to be included as an attendant for the bride, and that's what we're celebrating with this promotion. Plus, we saw it as a great opportunity for women to actually get additional use out of the dresses!"
The winning entry, which will be randomly chosen, will be awarded a Grand Prize trip for two to one of the four Gaylord Hotels, located in or near some of the country's most desirable destinations, including Washington, D.C., Orlando, Nashville and Grapevine, Texas. The Gaylord Opryland Resort in Nashville, Tenn. is currently closed and under repair due to Nashville's recent flooding. Re-opening date TBD. The prize includes atrium garden room accommodations for two nights, daily breakfast buffet, one spa treatment per person at Relâche Spa and roundtrip air transportation if the winner lives further than 150 miles from their chosen destination.* For more information, log on to http://www.gaylordhotels.com.
While on the site, guests are encouraged to peruse the growing collection of leisure packages designed to celebrate life's moments at Gaylord Hotels. With the Birthday Getaway, Unforgettable Anniversary, Remember Romance or Family Affair packages, guests are encouraged to connect in a personal and emotional way while celebrating the special occasions that create memories that last forever.
*One (1) Grand Prize trip for two (winner and one companion) to a Gaylord Hotels resort destination includes: atrium garden hotel accommodations (one room) for two (2) nights at a Gaylord Hotels resort destination; daily breakfast buffet; one spa treatment per person at Relâche Spa; roundtrip coach class air transportation for Grand Prize Winner and Guest which shall originate from a Southwest origination point/airport of Gaylord's choice nearest Grand Prize Winner's residence (as determined by Gaylord Hotels) to one of four Gaylord Hotels resort destinations . If the Grand Prize Winner resides within 150 miles of the Gaylord Hotels resort destination, the Grand Prize Winner will be responsible for his/her own transportation to that destination; approximate retail value of prize: $2,220.00.
About Gaylord Hotels®
Gaylord Hotels® is a collection of four upscale, resorts which afford endless opportunities for leisure travelers and conventioneers. The hotel company's hallmark -- "everything in one place" -- provides vacationers with diverse dining options, quality spa and fitness center services, top-notch entertainment, on-site shopping and endless activities -- all within each resort. Gaylord Hotels is a pioneer in the hotel and convention industry with properties in the nation's most desirable destinations. Gaylord Hotels include Gaylord Opryland® in Nashville, Tennessee (currently closed and under repair due to severe flooding in May 2010); Gaylord Palms® in Kissimmee, Florida near Orlando; and Gaylord Texan® on Lake Grapevine near Dallas, Texas, and Gaylord National® on the Potomac in National Harbor, Maryland, which just celebrated its two-year anniversary in April 2010. Gaylord Hotels is owned and operated by Gaylord Entertainment (NYSE: GET), a leading hospitality and entertainment company based in Nashville, Tenn. For more information, please visit: http://www.gaylordhotels.com.
# # #