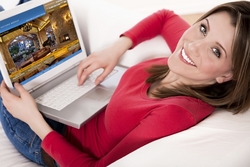 When a guest enters any of our hotels for the first time, they have this awestruck 'wow' moment when they see our sweeping, glass-covered atriums and the grand architecture that greets them
Nashville, Tenn. (PRWEB) February 22, 2010
Gaylord Hotels is launching a new website today designed to immerse customers in the true Gaylord Hotels experience. Visitors to http://www.gaylordhotels.com will encounter an improved, engaging journey with an interactive platform designed to illustrate a stay at one of the brand's four properties. In addition, the site provides comprehensive information for travelers about each of its four mega resorts, located in Nashville, Tenn., Kissimmee, Fla., National Harbor, Md., and Grapevine, Texas, as well as a suite of tools for meeting and conventions planners.
"When a guest enters any of our hotels for the first time, they have this awestruck 'wow' moment when they see our sweeping, glass-covered atriums and the grand architecture that greets them," said Rich Maradik, senior vice president and chief marketing officer of Gaylord Hotels. "And from the first interaction with one of our STARS at check-in, until one of our bellmen bids them a safe trip home, they continue to be delighted as they discover all of the amenities, services and special touches that make a visit to a Gaylord property unforgettable. Now, for the first time, the experience of our website is aligned with the experience of our brand."
While the end product is a panorama of beautiful imagery, comprehensive information and user-friendly interactive features, the strategic thinking that went into developing the site reflects the data-driven, decision making orientation of Gaylord Hotels and the full use of technology to convey information. "We really dove into the profiles of our visitors, including not only who they are, but how they spend time on our site," said Maradik. "The results in some areas were really eye-opening. For example, we learned that although a good portion of our business comes from large group meetings, only a small percentage of our site traffic (5 percent) were meeting and convention planners. The larger amount of http://www.gaylordhotels.com visitors (95 percent) are leisure visitors and meeting attendees, both of whom want to get a full sense of our offerings, but from a different perspective. So the new site does a wonderful job of speaking to the experience of being here, the amenities we offer and the sense of space and place that lives with guests well beyond their actual visit."
With an eye toward reaching all audience segments, the new site also includes:

An "experience" toolbar, which allows guests to visualize each property's unique features
Several 360 degree virtual tours of each property's atriums, facilities and guest rooms
"Sunny G" hotspots, which are links throughout the imagery that elaborate on facilities within the properties
Easy-to-use booking function with instant confirmation
Meeting planners tool kit area, including: customizable attendance boosters, floor plan images, and an instant quote request form for each property
Interviews with Gaylord Hotels' STARS
Video testimonials from Gaylord Hotels' guests
Information on the latest package offers and events
Detailed information on nearby attractions and dining options
Cutting-edge technologies were used to capture the stunning images that reflect the epic, grand scale of each property. A number of bold techniques were used to shoot the video, including the use of a remote-control helicopter for aerial video, a jib for sweeping shots, Steadi-cam for interviews and time-lapse for special effects. Still imagery includes 360 degree, architectural and lifestyle shots, all of which combine to provide extraordinary perspectives and bring the properties to life.
About Gaylord Hotels®
Gaylord Hotels® is a collection of four upscale, resorts which afford endless opportunities for leisure travelers and conventioneers. The hotel company's hallmark -- "everything in one place" -- provides vacationers with diverse dining options, quality spa and fitness center services, top-notch entertainment, on-site shopping and endless activities -- all within each resort. Gaylord Hotels is a pioneer in the hotel and convention industry with properties in the nation's most desirable destinations. Gaylord Hotels include Gaylord Opryland® in Nashville, Tennessee; Gaylord Palms® in Kissimmee, Florida near Orlando; and Gaylord Texan® on Lake Grapevine near Dallas, Texas, and Gaylord National® on the Potomac in National Harbor, Maryland, which just celebrated its year anniversary in April 2009. Gaylord Hotels is owned and operated by Gaylord Entertainment (NYSE: GET), a leading hospitality and entertainment company based in Nashville, Tenn. For more information, please visit: http://www.gaylordhotels.com.
# # #