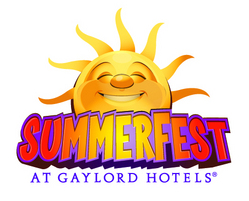 Nashville, TN (PRWEB) May 20, 2010
For families, planning the perfect getaway is often the best – and most daunting – part of summer. Between the flights, the rental cars, the misguided GPS and finding daily activities to please every family member, the whole process can take the fun out of the vacation celebration before it's even begun. Gaylord Hotels is putting the fun back with SummerFest, a program of events and activities that celebrates the season and is sure to delight the entire family.
Located in or near four of the country's most desirable settings – Washington, D.C., Nashville, Orlando and Dallas – Gaylord Hotels are destinations unto themselves. (The Gaylord Opryland Resort in Nashville, Tenn. is currently closed and under repair due to Nashville's recent flooding. Re-opening date TBD.) Each property boasts a variety of dining options suited to every style and taste, overseen by award-winning chefs who create special regional delicacies as well as creative kids' menus. Other on-property amenities include full-service spas and salons, indoor and outdoor pools, access to golf, shopping and much more. Each resort has been designed to provide a stunning backdrop for fun family getaways with an entertaining twist that highlights the area's history and cultural significance. Following is an overview of the SummerFest programs available at Gaylord Hotels:
All-American Fun at Gaylord National, National Harbor, Md.
Gaylord National, the premiere waterfront resort on the Potomac River and a gateway to Washington, D.C., will embody all-American fun this summer. Guests will be greeted by Monumental Sand Sculptures depicting famous scenes from the nation's capital and Madame Tussauds Wax Figures of President Washington and Lincoln inside the resort's sweeping, patriotically adorned atrium. On weekends, families will enjoy American Fanfare, a light and fountain show set to music featuring a salute to "Old Glory." Guests will marvel at Saturday Night Lights a dazzling fireworks show over the Potomac River held every Saturday night. Or, families can head to the pool to enjoy the Sunset Celebration with live music and summertime food and drink specials available at the pool bar. On Sundays, parents are encouraged to take advantage of local history by bringing their children to A Washington Brunch where they will meet George or Martha Washington. On weeknights, guests can take in Dive-In Movies playing on the big screen at the pool.
Other summer highlights at the Gaylord National include the July 4th Fireworks and Fun Celebration with live music, carnival rides, refreshments and an elaborate fireworks display over the Potomac River, the National Harbor Food & Wine Festival (June 12-13), and Abbey Road on the River (Sept. 2-6), a four-day Beatles tribute festival over Labor Day weekend. For packages and more information, go to http://www.gaylordhotels.com/summerfest.
SummerFest at Gaylord Palms, Kissimmee, Fla.
Themed to match the sizzling Florida summer nights, SummerFest at Gaylord Palms is a great way to celebrate what the sunshine state is famous for: sun, music and fun! This year, an exquisite sand sculpture garden will delight guests. Other on–site activities include live alligator feedings, fish feedings in Key West lagoon, the famed TV show "Hell's Kitchen"-themed culinary activities, a menu of special summer spa treatments, the Coquina Dunes Recreation Park, Friday night "Dive-In Movies," and Saturday Pool Jams with live DJs at Clearwater Cove.
Another favorite Summer Rockin' Fun offering will be Rock Band, where guests can step on stage in Auggies Jammin' Bar to play the popular game. Kids can enjoy related activities such as the Roadie's Challenge scavenger hunt where they will hunt for hidden guitars. They also eat for free* during SummerFest with the purchase of an adult entrée at Sunset Sam's or Villa De Flora. And the whole family can enjoy the Live Like a Rockstar Brunch on Sundays. For packages and more information, go to http://www.gaylordhotels.com/summerfest.
SummerFest Wonderland Adventure at Gaylord Texan, Grapevine, Texas
Ever wondered if things really are bigger in Texas? Join famed Lewis Carroll character "Alice" of Alice's Adventures in Wonderland at Gaylord Texan this summer for the SummerFest Wonderland Adventure, a magical journey and unforgettable memory making experience for the entire family. Wonderland will be brought to life on an epic scale in the vast expanse of the resort's lush gardens and indoor atriums with Alice through the Atrium Glass, an exhibit of giant-sized iconic Wonderland images and art pieces represented in a variety of different media such as huge sand sculptures, topiary, glass and metal art. Nightly light shows, Wonderland ALIVE!, in the atrium will accentuate the giant sculptures of flowers, tea sets, cupcakes and more with lights, sounds, characters, stilt walkers and balloon artists. Several interactive family activities that reflect the theme will also be available, including the Hatter's Mad Tea Party, character breakfasts with Alice and Friends, a Journey Down the Rabbit Hole 3-D light maze, a Cheshire Cat Challenge scavenger hunt, the Queen of Hearts puppet show and a Parade of Magic Hats and fireworks on Friday nights. Adults can also get in on the fun, with "Tea Time" for mom at Old Hickory, "Tee Time" for dad at the Cowboys Golf Club, Wonderland Wednesdays at the Glass Cactus, and after-hours "Drink Me" cocktail sampling events throughout the hotel.
As a special treat, kids eat for free* at Gaylord Texan on Thursday nights, and the whole family will enjoy special activities including strolling characters, magicians and stilt walkers, a dessert dine-around, a life-sized family chess tournament, and more. For package and more information, go to http://www.gaylordhotels.com/summerfest.
*"Kids Eat Free" program specifics vary at each property. Please go to each property's website for terms and conditions related to the individual "Kids Eat Free" program.
About Gaylord Hotels®
Gaylord Hotels® is a collection of four upscale, resorts which afford endless opportunities for leisure travelers and conventioneers. The hotel company's hallmark -- "everything in one place" -- provides vacationers with diverse dining options, quality spa and fitness center services, top-notch entertainment, on-site shopping and endless activities -- all within each resort. Gaylord Hotels is a pioneer in the hotel and convention industry with properties in the nation's most desirable destinations. Gaylord Hotels include Gaylord Opryland® in Nashville, Tennessee (currently closed and under repair due to severe flooding in May 2010); Gaylord Palms® in Kissimmee, Florida near Orlando; and Gaylord Texan® on Lake Grapevine near Dallas, Texas, and Gaylord National® on the Potomac in National Harbor, Maryland, which just celebrated its two-year anniversary in April 2010. Gaylord Hotels is owned and operated by Gaylord Entertainment (NYSE: GET), a leading hospitality and entertainment company based in Nashville, Tenn. For more information, please visit: http://www.gaylordhotels.com.
###