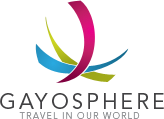 Gayosphere.com is now offering exclusive discounts and deals on the best gay vacation resorts and gay cruises via their website http://www.gayosphere.com.
New York, NY (PRWEB) June 27, 2013
Celebrate the defeat of the Defense of Marriage Act by the Supreme Court of the United States by booking a honeymoon aboard one of the best gay cruises or at a four-star gay vacation resort using the exclusive deals found at Gayosphere.com.
Gayosphere is the web's most trusted guide to gay and lesbian travel with more than 30 years of experience mapping LGBT friendly travel destinations for same sex couples and singles alike.
Discounts such as 10 percent off at the famous Palm Springs Triangle Inn or a $500 savings on the all-gay Full Moon Lisbon-Barcelona cruise by Source Events are just a few of the exclusive deals available through Gayosphere.com.
Backed by more 30 years of experience, Gayosphere knows and understands the LGBT travel industry better than anyone. Gayosphere gives LGBT travelers access to the best gay friendly location and business listings in cities around the world. From Los Angeles gay clubs and San Francisco gay bars to New York gay bars or Paris gay hotels, Gayosphere allows LGBT travelers to feel at home in any city.
Originally known as FunMaps, Gayosphere has been distributing gay and lesbian maps for more than 30 years and. FunMaps global distribution has made them the most circulated gay publication in the world. Backed by their decades of experience Gayosphere promises to have the most in depth well researched information available along with real reviews that GLBT's can trust.
To further compliment Gayosphere.com and the popular FunMaps – Gayosphere has announced the Gayosphere App that will be available on both iOS and Android platforms. The Gayosphere App is powered by world famous FunMaps and takes the popular features from Gayosphere website including detailed city maps, listings of gay bars and gay clubs, and trustworthy reviews, and puts them in a handy app that can be taken on the road. Packed with more than 30 years of in-depth gay knowledge and wisdom, the Gayosphere App is sure to be a must have for LGBT travelers throughout the world.
Gayosphere is the web's to LGBT travel resource, they are a compass that understands what the LGBT community wants, how they want to do it, and who they want to do it with. The new Gayosphere app will be available soon and Gayosphere can be found online at http://www.gayosphere.com.