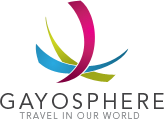 Whether users are looking for the hottest New York gay bars, Los Angeles gay clubs, or gay vacation resorts, the Gayosphere App promises to have the answers at http://www.gayosphere.com
New York, New York (PRWEB) June 07, 2013
The new Gayosphere App by Gayosphere, the premier travel resource for same sex couples, is finally available. The brand new Gayosphere app is powered by FunMaps and makes it easy for gay travelers to find the hottest gay bars, gay friendly hotels, restaurants, clubs, shops, attractions and events in any city in the world. Whether users are looking for the hottest New York gay bars, Los Angeles gay clubs, or gay vacation resorts, the Gayosphere App promises to have the answers.
When traveling, it can be very challenging for single GLBT's and same sex couples to find gay vacation resorts, gay friendly businesses and locations in cities that they are not familiar with. However, with the release of the new Gayosphere App, GLBT's and same sex couples have a new travelling companion that will guide them to the safest gay-friendly locations and also offer honest detailed reviews and maps of gay bars, gay events, and other establishments where same sex couples and gay singles can feel safe welcome.
The Gayosphere App is available now for both Apple iOS and Android systems. The highly anticipated app is powered by Gayosphere's popular FunMaps and incorporates many of the most popular elements from the Gayosphere website. FunMaps are the most circulated gay publications in the world and have a global reach of more than 3.5 million users every year. FunMaps are compiled from decades of local specific knowledge and provide the hands down most in-depth information on gay friendly locations and gay events.
FunMaps have gained popularity due to their detailed street maps, business directories, and community resource listings –and best of all, they're free. FunMaps has been mapping the gay world for more than 25 years and now their reliable information is available in the Gayosphere App that's indispensable when planning gay travel.
Gayosphere makes planning GLBT trips easy and rewarding, all while connecting GLBT's to "our" world. With over 30 years of experience in the mapping industry FunMaps is proud to be the online gateway for GLBT travel. Travel is one of the most rewarding experiences in life, especially when you have an expert guide by your side. One who can help the gay and lesbian traveler to discover: The best gay-friendly hotels, restaurants, nightclubs, spas and fitness centers in every major travel destination – and with Gayosphere that's exactly what users have.
Gayosphere is far more than just a booking engine, whether users are looking for gay cruises or San Francisco gay bars, Gayosphere can help. Gayosphere is a compass that understands what the GLBT community wants, how they want to do it, and who they want to do it with. The Gayosphere app is available now and Gayosphere can be found online at http://www.gayosphere.com.