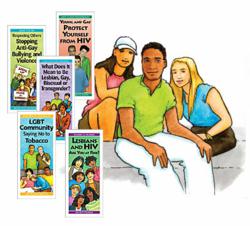 Celebrate with Pride, but educate for life!
Santa Cruz, CA (PRWEB) June 04, 2013
In recent years, great strides have been made toward increasing civil rights and acceptance for people in the LGBT population. But challenges remain, particularly when it comes to health disparities. According to the U.S. Dept. of Health and Human Services: "Social inequality is often associated with poorer health status...In addition, members of the LGBT community are at increased risk for a number of health threats when compared to their heterosexual peers." Together these factors put the LGBT population at a unique risk. Professionals and educators working toward the Healthy People 2020 goal of eliminating disparities and improving the health of all people will be interested in previewing several brochures offered by Journeyworks Publishing. To request a review packet, visit the Journeyworks Publishing's Gay Pride review pack page.
Journeyworks Publishing has been producing well regarded health education materials since the early 90s. Their pamphlets are accurate, easy-to-read and sensitive to issues of culture, gender, age and sexual orientation. The materials in the review packet focus on HIV education, violence prevention and even tobacco-company targeting. But, no matter the health issue, the bottom line is that the LGBT community will find an ally in Journeyworks Publishing. Or as one staff member said, "We aim to celebrate with Pride, but educate for life!"
Educators and professionals can request preview materials by visiting Journeyworks Publishing's Gay Pride review pack page.
About Journeyworks Publishing
Journeyworks Publishing is a national health education and health promotion publisher with more than 10,000,000 pamphlets, brochures, booklets, posters, bookmarks, videos and other products distributed each year. Used extensively by public health departments, hospitals, schools, VA programs and more. You can learn more by visiting http://www.journeyworks.com.