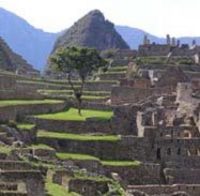 New Milford, NJ (Vocus) September 10, 2009
Spirit Journeys announces a major price reduction for their journey to Peru. The cost is now only $3,995 for 15 days in wonderful Peru. Previous gay travel vacations to Peru have proven to be extremely beneficial, both personally and spiritually. Ancient sites are explored to find their hidden meanings. This journey can change your as you explore the magic that is Peru. Participants will access the nature of ancient sites with the assistance of the Shamanic Ceremonies, Medicine Plants, and the Spirits indigenous to Peru and her people.
Spirit Journeys has been providing gay travel adventures to Peru annually since 1996. The power and inspiration of Peru's sacred sites is amazing. If you have the slightest draw to this part of the world, or to empower your Life, you are encouraged to follow that impulse. The rich natural setting of the magnificent Andean Mountains often triggers deep new discoveries about one's spirit and life purpose.
The intention of this journey is to provide a connection to the people, the culture and the mysticism of Peru. This makes the journey more like a pilgrimage and the participants are pilgrims. What distinguishes a pilgrim from any other traveler is that he or she dedicates the journey to a spiritual (higher) purpose with clear intentions, and anticipates an exchange with the special place - both receiving something from its atmosphere or holiness and giving something in return, such as a gift, a prayer or simply love.
This journey to the Sacred Andes is guided by shaman and archeologist, Ruben Orellana, and Spirit Journeys' staff member Wolf Martinez, with occasional visits from native healers and other shamans. Together they will guide the group in specific rituals, meditations, and shamanistic practices to experience and honor the energies of these powerful places.
For additional information on this gay travel adventure, and other gay vacations and retreats, contact Howie Holben or visit http://www.spiritjourneys.com .
###